Final four finish for Girls' soccer team: Record-breaking season comes close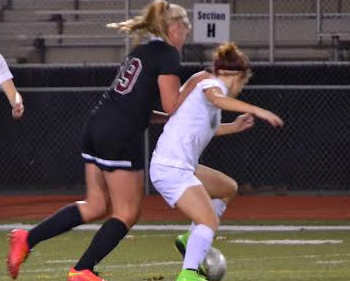 Hang on for a minute...we're trying to find some more stories you might like.
The Girls' soccer team left off with their semi-final game in WPIAL playoffs. This game was against Shady Side Academy on Oct. 22. To get to this point, the girls had to win their games against Sewickley Academy on Oct. 18 and Charleroi on Oct. 22. The girls team won their semi-final game which put them into the finals with Greensburg.
This Shady Side game was also the game where Freedom High School principal Mr. William Deal drove the school bus for the girls. From this, the cost of the student bus went down for more students to join the girls for their game. Students filled the bus and made a student section to cheer on the girls.
After beating Shady Side in their semi-final game, the girls went to the finals. They had their WPIAL finals game on Nov. 1 against Greensburg Central Catholic at Highmark Stadium in Pittsburgh. They lost this game 9-1 and had to settle for second place. However, the team still made it to state competition.
"[It's] really, really exciting even making it to the playoffs and making it to states which is a whole other achievement and its something I will always remember [from] senior year," Senior Tina Davis said.
Since the girls made states, they also have had an extended season. Their first game of states would be a major one to win after they lost their finals game. The game against Fairview in Erie did just that.
The game was on Nov. 4 and it was their second game in the month of Nov. The Nov. 4 game was a win for them with an end score of 3-2. The goals were scored by Schwab with two goals and Freshman Lynnsey Kauffman with one goal.
"[Winning the game] helped us get our confidence back," Sophomore Alexa Schwab said.
" It helped us have confidence that we were going to just win the whole thing," Sophomore Marissa Cardosi said.
The girls played on Nov. 8, which was their second game in the PIAA state playoffs. This game was the farthest from home; with a three hour drive.The girls played against Bloomsburg, in Altoona, Pa. The girls won this game 1-0, with the only goal being scored by Schwab, as well as a shut out by Freshman goalie Jacklyn Hartle.
"[The shut out was] awesome," Hartle said. This win took the girls to state semi-finals and pit them against their WPIAL rivals Greensburg.
Their game against Greensburg on Nov. 11 would decide if the team would head to Hershey for the finals. The girls went into the game trying to beat Greensburg this time around, but lost 4-1. The girls ended their semi-finals of states game with a score that was much smaller than their earlier loss in the WPIAL finals 9-1.
"[Despite losing the game against Greensburg, our overall season has gone] really well since we broke history. We still have a win even though
we did lose, overall we did win," Davis said.
"Our overall season went really well and we are really proud of ourselves of how far we made it and that we made history," Senior Alexis Shingleton said.
"It feels awesome [to be one of the coaches to help the bring the team this far.] We have never been that far ever," assistant coach DJ Sharpless said.
The girls broke three records this year: two individual records and one team record. Schwab had broken the most goals in a season record and Senior Madison Daubenspeck had broken the record for most career assists. The team had broken the schools record of farthest sports team to make it in playoff before.
"[It's] incredible knowing that no one else made it that far, and we made it that far with all the hard work we put in," Shingleton said.
Now, the seniors are moving on, and new juniors will be taking their place. With a high note to end on, the seniors are happy that they were a part of this family.
"The only bad thing was against Greensburg, but we held them back down during the second half. It was still a great season to end on," Davis said.
"We played our hearts out and left everything on the field," Shingleton said.