Freedom golf hits it off the tee
The young team looks to make improvements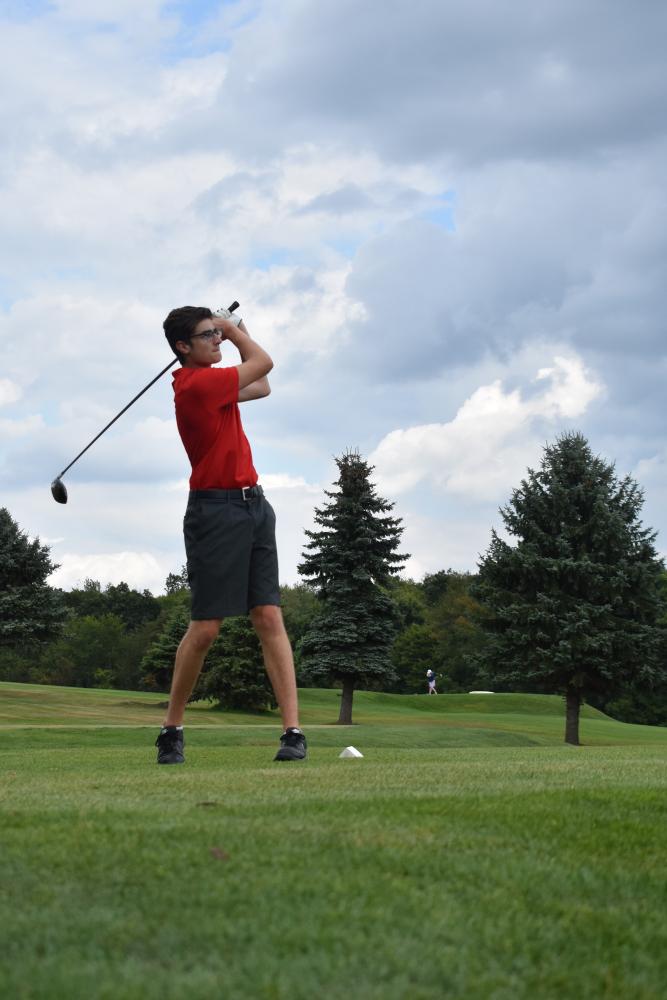 The Freedom Golf Team kicked off their 2017-2018 season on Aug. 23 against Quigley Catholic High School. The team consists of senior Dante Colorito, sophomores Evan Aland, Nolan Colaric, Mason Hedge, Matthew Levenson, Logan Richards, JoAnn Sharpless, Cade Skuse, Cole Skuse, Noah Spanos and freshman Kameron Skrobacz. They are coached by Secondary Computer Applications teacher, Tom Hickey.
They had their first win on Sept. 5 against Lincoln Park with a score of 293-285. With 10 new members, the group is focused on improving their skills.
"[I help new members by] giving them tips while playing and encouragement on the course," Colorito, the only returner, said.
The team is also trying to have fun and build solid friendships with each other. Despite almost everyone being new to the team, they all work together very well. They have formed friendships that will last a lifetime.
"[My favorite part of golf] is probably getting to laugh and hang out with my friends while doing something that I enjoy," sophomore Richards said. "Everybody is very relaxed on the golf team and it makes it very fun."
Although they are having fun, they also face many challenges. The team struggles due to the inexperience and the young age of their team.
"Playing schools on courses that you have never seen or played before," Colorito said on what their biggest disadvantage is.
"Most of the disadvantages come from inexperience. Most of us are trying golf for the first time and we're facing [teams] with kids who have been playing four to six years. The scores really reflect that. We can overcome this with time. If we stick with it, after a year or two, we will probably learn a lot more about technique and our scores will go up," Richards said.
Although the team is young and still have much to learn about golf, they are making improvements. They teach each other new skills and techniques. As they learn together, they also continue to encourage each other on and off the golf course.
"We always encourage each other to do our best. If you make a bad drive, you can always count on someone to be there to guide you and tell you it's no big deal," Sophomore JoAnn Sharpless said explaining how they work together.
One thing that's really incredible about golf is that you don't have to win to have fun. No matter how old, young, big or small you are, you can still be a golfer.
"I think everyone should know that golf is a sport that anyone can play. Age, size and skill doesn't matter at all. All that matters in the end is that you did your best and had fun," Sharpless also said.
While golf is a sport that anyone can play, it takes a great deal of practicing to get good at.
When Skrobacz was asked what he wants the community to know about golf, he said, "It's not as easy as it looks."