Freedom hockey players reflect on season with Central Valley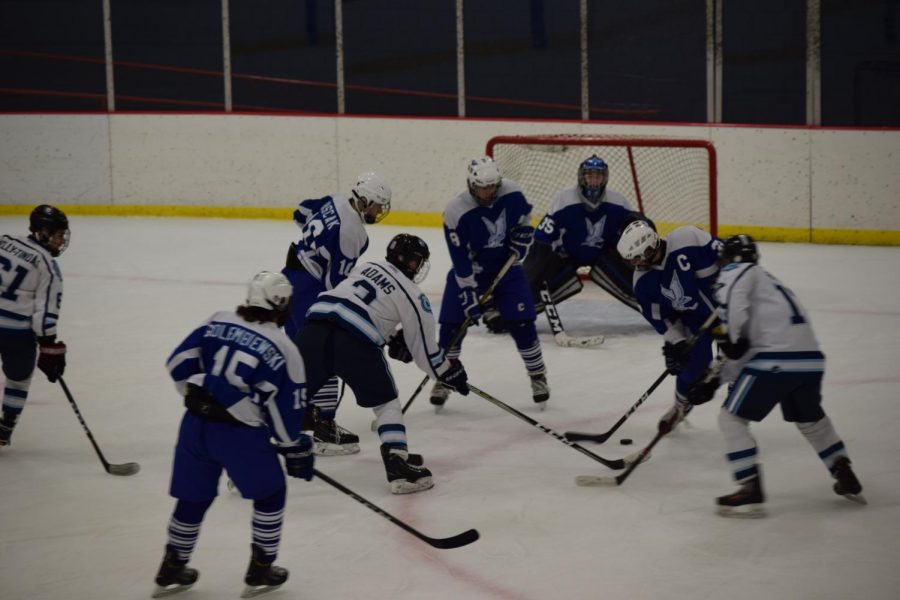 As the regular season comes to an end, Central Valley hockey players have a chance to reflect on the team's performance and how they measured up to their own expectations. Overall, according to the players, although the season didn't live up to the expectations, they could still find strengths and positives from the experience.
The Central Valley hockey team currently holds a record of 5-10-1, as of Feb. 15, placing them 10 out of 11 teams in the standings.  
In past years, the top eight teams have moved on to playoffs. As of Feb. 15, that does not give Central Valley a spot in the playoff brackets. As the regular season winds down with a few games left and the chances of playing in the playoffs still waver, the players have time to reflect on the overall season.
According to junior Sam Romutis, the team had plenty of players that were capable of playing well, but they didn't work together as a team.
"Our strengths were that we have plenty of guys that have lots of skill and can score, but we never played as a team and that's part of the reason we have been losing," Romutis said.
In the player leaderboard on the Pennsylvania Interscholastic Hockey League (PIHL) website, Central Valley shows up in both the regular player and top goalie boards. Sophomore Noah Yerdon from Central Valley appears in the top five with 19 goals scored and 35 overall points. The team, however, only shows up as 10th in the overall standings.
Similar to Romutis, junior Riley Adams also agrees that teamwork on the ice was a problem, but that same behavior also reflected off the ice.
"Our biggest weakness is that we didn't play together as a team very well and every time we're on the bench during a game, everybody was just bickering with each other and nobody was positive at all," Adams said.
According to senior Jimmy Kelly-Tindall, the team's mentality also played a lot into the way they performed each night.
"We had our ups and downs. Sometimes we played hockey, other times we looked like we didn't want to be there," Kelly-Tindall said.
Freshman Marc Evans mentioned that the team started working together, but not until the end of the season. According to Evans, switching teams and working with new players was more difficult for the upperclassmen than it was for him.
"[The hockey season] was an experience. We finally started to play as a team close to the end. It was a good season overall," Evans said.
This was the first year that the players played on the Central Valley team. Previously, they played for the Blackhawk Cougars until they went pure and only accepted students from the home school. Changing teams meant new teammates, new coaches and new routines and practices.
"[Switching teams] kind of affected the outcome because we had to get used to new people and that is always a struggle," Kelly-Tindall said.
On the overall PIHL leaderboard for the D2 division as of Feb. 15, Central Valley has a total point value of 12, which places them one spot below Morgantown and Trinity with a total of 13. This puts them above only Carrick with four points.
Making playoffs would mean that they would play the top team in the division, which is Moon.
"If we don't play as a team, it will be a very quick run. If we play together and play the best we can, we could go far," Romutis said.