Freedom thinks pink
Freedom supports Breast Cancer Awareness month in a variety of ways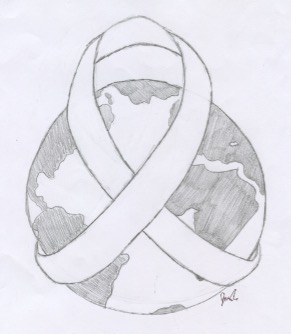 Every year in October, breast cancer awareness is celebrated. Many people associate the color pink with October simply because it's Breast Cancer Awareness Month. It is celebrated all throughout the United States. However, Freedom has its own unique way of celebrating Breast Cancer Awareness Month.
Freedom students wear pink and participate in activities supporting breast cancer awareness during the month of October. Students at Freedom believe that it is very important to show support because it shows the people battling breast cancer that many care and support them.
"I think it is very important to wear pink in October for breast cancer because it shows support for anyone who is battling it. It shows that they are not alone and that there are many people that care and support them," junior Allyson Charlovich said.
In October, there are multiple sports that partake in breast cancer awareness activities. For example, the football team has a pink out game for breast cancer awareness. Fortune 500 works closely with them to prepare t-shirts for the community to wear to the game dedicated to the pink out. This year the pink out game was on Oct. 18 against Apollo Ridge.
In honor of breast cancer awareness, the football team showed their support by wearing pink socks or pink armbands. Along with them, the cheerleaders used pink pom-poms for the entirety of the game in addition to specially made pinkout sweatshirts and pink bows.
Freedom Big Red Marching Band's drill team showed their support by wearing pink ribbons in their hair. They also wore pink eyeshadow to match their pink ribbons.
"One of our girls went out and got us pink hair ribbons to tie to our ponytails. She also got us breast cancer awareness ribbons to pin to our jackets which was really cute! We also got pink sparkles for our eyes," Charlovich said.
For the girls and boys soccer teams, they also had t-shirts created to wear for warm-ups before their games dedicated to breast cancer awareness. These shirts were also created by Fortune 500. During these games, athletes also wore pink articles of clothing to show their support for spreading awareness.
The middle school girls soccer team also took part in supporting breast cancer awareness by wearing shirts for their warm ups. The girls also wore pink throughout their game to show their support.
"People can do so many other things to show support like starting fundraisers for people battling because they need as much help as they can get. Overall just showing support for people going through this really helps them which is most important," Charlovich said.
Anyone can show their support for breast cancer awareness during the month of October and throughout the rest of the year. There are so many different ways to show support, by simply just wearing pink or even starting a fundraiser.