From humble beginnings come great things: Blackhawk Hockey hits hot streak after slow start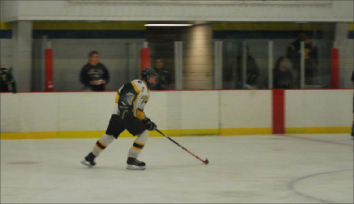 Three players from Freedom go to Brady's Run Ice Rink Arena to play with the Blackhawk hockey team. These three boys consist of juniors Alex Lundy, Stu Skogsholm and Kenny Rose.
The boys started the season with a win over the Indiana team, which is currently in first place. The team then suffered three losses in a row. They went through the month and they used the final three games of November to get themselves to a 4-4 record putting the team in the middle of the standings.
"We've got this real great defensive work going on and everybody is playing their part defensively," Lundy said.
Players use defensive strategies to help them win games and are a major part in stringing a few wins together like the boys did to end the month of November. Often times, if a strategy is good enough other teams will have trouble countering it no matter their talent level.
In hockey, there are three main parts of the ice: the offensive zone, the defensive zone and the middle is called the neutral zone, this is where the puck is dropped at the start of the game.
On December 11 Blackhawk took on Meadville who was just ahead of the team in the standings going into the game. Goals by Juniors Kenny Rose and Alex Lundy helped lift the Cougars to a 6-3 win. Rose added an assist to give him two points on the night and three points on the year. This win flipped Blackhawk and Meadville in the standings putting Blackhawk in a tie for fourth place with a 5-4 record through nine games.
"After playing against them and knowing that we can beat them, I love the fact that the rivalry is with Beaver because we play with all those guys on amatuer teams and it makes us think that we have a good chance of making playoffs," Lundy said. Despite the fact that it's early in the season, the boys believe that playoffs are a possibility.
Blackhawk, and the three Freedom players, have two pivotal matchups coming up in late January, that will be important in their efforts to make the playoffs. The first game is on Jan. 22 against Indiana.
The second game is a matchup against their biggest rival, Beaver, on Jan. 27. Both of these games are at home.
"Everything goes out there and it's really hype every game and there is no such thing as a slow hockey game so we hope that people come out and support us," Lundy said.
Blackhawk also had a game on Dec. 11, and won 6-3. The game included both Rose and Lundy scoring a goal, and a few of the blackhawk players scoring, too. These are Rose's and Lundy's first goal of the season, and helps them on their way to the playoffs.