Getting back in the game
Boys' Basketball sets team goals, standards to combat losing record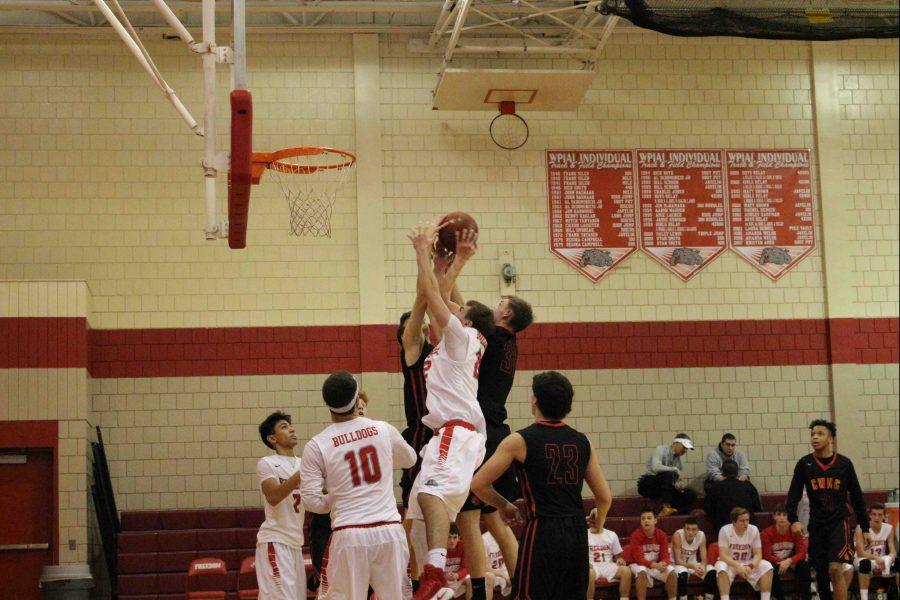 Along with the new year, the regular season games for basketball have recently begun at the beginning of January. Having already started the season with a few tournaments and scrimmages in November and December, the boys' basketball team had their first regular season game on Jan. 3, facing off against the North Catholic team. The boys put in all their efforts, but lost the game at 59-40.
Following this, they took on Brentwood on Jan. 6 (49-48), Avonworth on Jan. 10 (80-63), Seton LaSalle on Jan. 13 (78-47), Carlynton on Jan. 17 (73-41) and Western Beaver on Jan 19 (53-38).
"Every team should have goals, and whether we win the rest of our games or lose the rest of our games, our goal can still be reached. If we work hard together, the rest of the season will play itself out," sophomore Sam Socash said. "Our main goal is to be the Freedom basketball team to turn the organization around. We have the athletes to do so."
With where they're at in the season now, the boys have yet to be victorious in any of their games; however, they all continue to hold high hopes for games to come in the near future.
"I think we've had glimpses of being good because we have won and we have competed, battled and overcome adversity so far with certain situations within the team," senior Scotty Lazarus said. "I can't answer how far we will go because that depends on what team shows up, but if the good team I know shows up, we can shock some people and make a run."
The team is aiming to make it to the playoffs, always making sure they play hard to make the goal more attainable. Players agree that if each and every one of them shows up and plays to the best of their ability, they can reach their goal and have a successful season.
"If we continue to keep playing hard and getting after it and win the games we are supposed to, then yes, we can get into the playoffs," Lazarus said.
Freshman Noah Spanos displayed great confidence in his team's general ability, as well as his great expectations for their upcoming games.
"Our goal is to make it to the playoffs, and I think that's a logical goal and we're [going to] do it," Spanos stated. "I think that we could go as far as we try."
Along with their general strengths of working together, listening to each other and helping each other out when it comes to fixing their mistakes or improving their skills, the team has their weaknesses.
"Our only weakness is ourselves. Every team misses shots and makes bad passes. We cannot hang our heads, and we need to get back and play the basketball we know how to play," Socash said.
With positive anticipations and high expectations for themselves and each other, the boys will try to put their best foot forward to achieve the goals they have set for the season.