Getting together with "gal pals"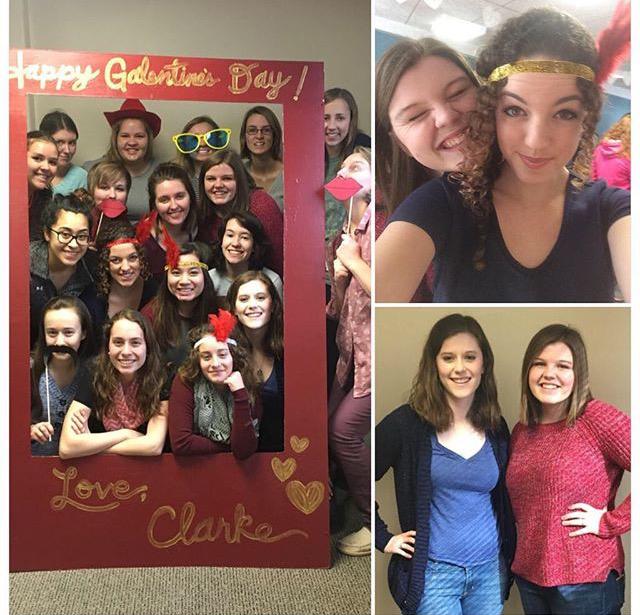 Valentine's Day is a holiday that couples rejoice and singles dread, but how about celebrating friendship instead?
Galentine's Day began as a comedic sketch on the NBC sitcom "Parks and Recreation". In the episode where Galentine's Day was first introduced, the main character Leslie Knope explains that each year on Feb. 13 she throws a party for all the female friends in her life to "kick it breakfast style". Although it may not be the traditional Valentine's Day that everyone knows and loves (or sometimes hates), in some ways it improves Valentine's Day to reach a larger audience.
The holiday itself is centered around girls celebrating girls, which in itself, is very relevant to society. With more and more examples of female empowerment in everyday life, it makes sense to celebrate each other and work together to make sure women know their true worth and how amazing they truly are.
On Galentine's Day, the gift-giving Leslie gets them all a gift bag with a bouquet of hand-crocheted flower pens, a mosaic portrait of each of them made from the crushed bottles of their favorite diet soda, and a personalized 5,000 word essay of why they're all so awesome. While not everyone is willing to go to such lengths to celebrate friendship and general feminine grace, something small could still be a nice gesture that would not go unnoticed.
The holiday festivities are endless when celebrating with friends. Some ideas may include going out for breakfast such as in the television show, going to the mall to shop with friends, or maybe even a salon trip to get manicures. In fact, the festivities don't even need to be strictly "feminine". Some "gals" may just want to hang out at home and watch movies all day or go out camping just to get away for a few days.
"I like that everybody gets their day and can have fun even if they're not in a relationship." Junior Nicole Wright said.
Although it does not explicitly say the holiday is made for singles, it can definitely be used as an advantage if one is single. On the show, the holiday was originally utilized to get away from husbands and boyfriends, which is absolutely plausible for real life. Sometimes we all need a little alone time, just with friends. However, ruling out singles in the equation just wouldn't be fair, and it may even relate better to those without partners because it's an excuse to have a party to celebrate love from friends, which can be equally as valuable as love from a significant other.
Another interesting idea could be to expand the holiday fun to include guys as well. Of course there's always a "guy's night", but this could be the same situation. Galentine's Day could then become "Palentine's Day", and guys could hang out and have fun while girls are out having fun as well. Once again, if one is single this could be an excellent way to make connections, running into various groups of friends and such. It may lead to conversation and maybe even some new relationships.
Overall, Valentine's Day can be a wonderful holiday, but one shouldn't get lost in all the "hustle and bustle" surrounding it. Sometimes in life we don't need a man or woman to find happiness. Sometimes we just need the simple love of friendship, which may lead to discovering the true value and love of our own lives.