Girls Soccer rolls into action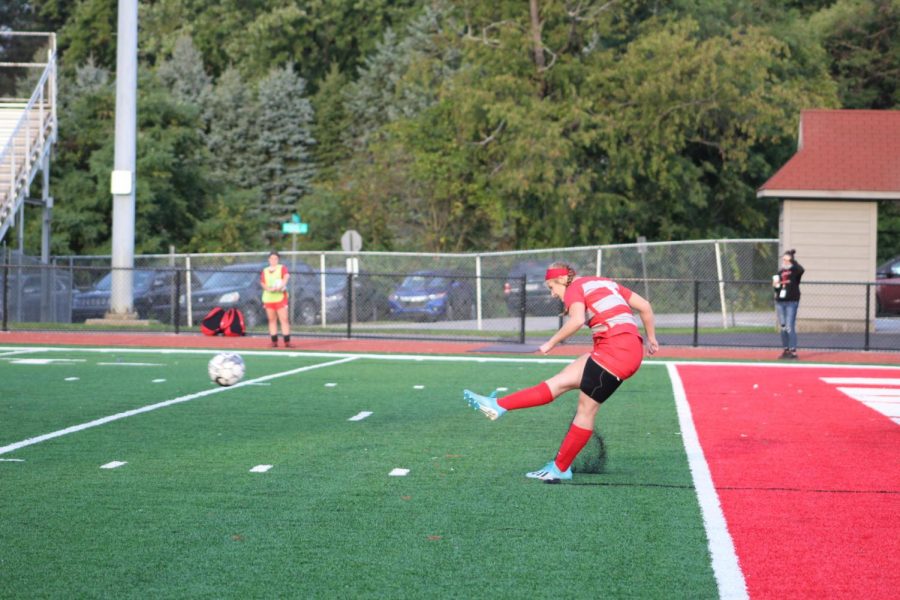 As summer finally comes to an end, fall sports are picking up once again. After all of the confusion over whether or not fall sports would even begin, parents are happy to see that their children will still be able to play. There are still major restriction in place to ensure peoples safety as well as the number of people in the stands which has been limited. Even though that number has been limited, fans can still watch the girls winning streak through the schools live streaming website they installed this fall.  
In total, there are 21 players on the girls soccer team this year.  After last years seniors graduated, the team lost some great players, but they were able to gain a lot more players. Seniors Jessica Scheel and Karissa Mercier lead the team. The team also includes juniors Taylor DiMarzio, Oliva Evans, Cadance Gorajewski, Bella Lowe, Renae Mohrbacher, Tory Valles and Grace White. Sophomores on the team are Megan Evans, Jersee Melvin, Leannah Messenger, Julia Mohrbacher, Finley Paxton, Kaylee Ostrowski and Julia Young. The newest addition to the team are the freshmen which include Shaye Bailey, Emma Falk, Morgan Keller, Madison Meyer and Bre Reynolds.
Though there was a lot of uncertainty surrounding fall sports, adjustments were made to allow students to play once more. Initially, players have to fill out a form to say that they aren't sick, and they haven't traveled out of the state and or country. Once they get to the event, their temperature is taken to ensure there are no possible cases. They also have to socially distance themselves on the benches when warming up. They can't share water and have to wear masks before practice, during games, on the benches and on the buses to away games. 
In total, there are 21 players on the girls soccer team this year. The girls first scrimmage had 3 quarters. The first two quarters were 30 minutes each and the last was 20 minutes. Sophomore Julia Mohrbacher and freshman Morgan Keller both scored during those quarters. Though the girls played hard, they lost 4-2. After their first scrimmage, it was all wins from there. With one of their most recent games being a win of 6-2. 
 After the girls steller season this year, they continue to work hard to uphold their outstanding standard. The girls so far have won all four of their games within the season and hope to continue their already winning streak.