Going farther than before
The girls basketball team makes it to playoffs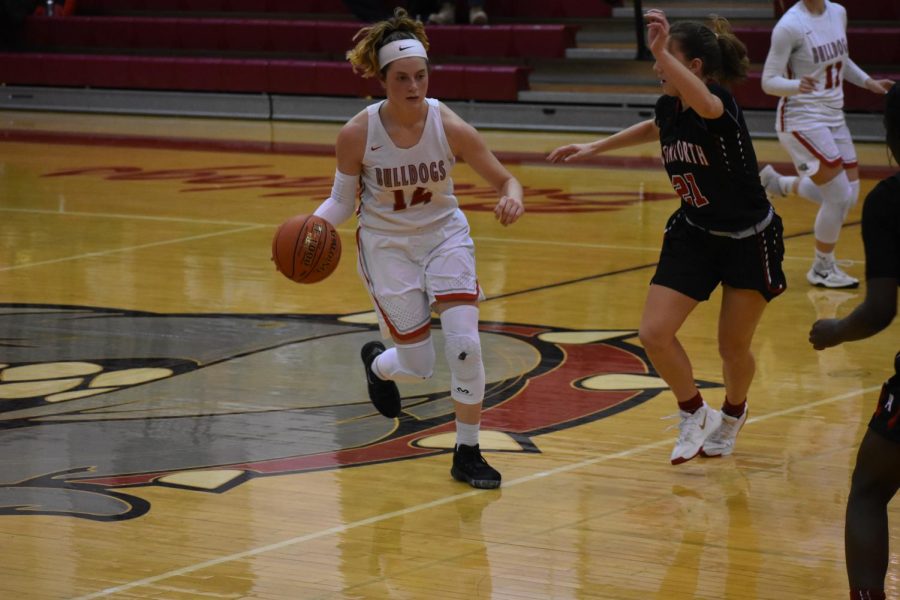 As the winter season starts to come to a close, so does the reign of the girls basketball team. The girls have played hard this year, fueled by determination.
After multiple discouraging losses in January, the girls pulled off a nail-biting win against Mohawk on Jan. 27 with a score of 80-76. The teams remained tied for most of the game, until there were seconds remaining in the fourth quarter. With moments to spare, senior Morgan Swab sank a three point shot that pushed the game into overtime.
"It felt amazing and exciting, it will be a moment I will never forget. Everyone got super pumped up and were ready to take it to Mohawk in overtime. There was a rush of nervousness and pressure. I had to put those feelings aside quickly so I could focus on my shot. I remember stepping back to make sure I was behind the three point line but I didn't have enough time to actually look down and make sure I was behind it since there was no time left and the defender was coming out to get me," Swab said.
The team took on a losing streak against Hopewell, Beaver, Avonworth and Lincoln Park. The girls kept their heads up despite these losses, as they attacked every game with the same attitude.
The girls managed to clinch a spot in the playoffs, despite many tough opponents. Their first playoff game was Feb. 19 against Derry Area Highschool, where Freedom won 47-32.
Their second playoff game was Feb. 22 against Carlynton where they lost 42-37. As of Feb. 24, if Carlynton wins their next game against Mohawk on Feb. 26 and advance to the championship, then Freedom will qualify for the state playoff run.
This year was one of the most successful records that the team has had in years. While the number of seniors is smaller than in previous years, the two of them still made an impact as starters for the team.
The boys and girls teams shared a senior night together. The teams honored their seniors as the audience roared with applause. 
"I have learned that teamwork is key to the sport in rough situations and in life in general and that you can get through anything with people by your side.  We seem to be doing well together, the only thing we need to not necessarily fix but make sure we continue is play to our level. We are a great team with a lot of potential, we just have to meet those potentials," senior Myah Hrinko said.
With only two seniors graduating it's easy to predict the team's chances for next year. Multiple underclassmen already have experience as starters and have proven themselves to be major scorers.