Golf is tee-rific
The golf team swings into a new season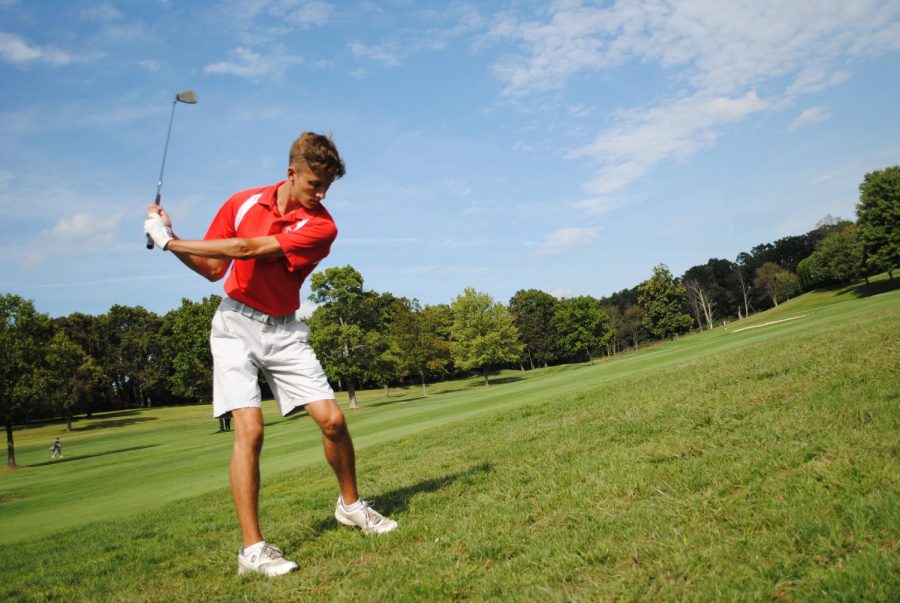 For the 2019 season, 13 athletes make up the Freedom golf team. Seniors Matthew Levenson, Mason Hedge, Cole Skuse, Cade Skuse, Nolan Colaric, Evan Aland, juniors Nick Tavern, Matthew Castelli, Josiah Dubovi, Kameron Skrobaz sophomores Faith Tooch, Austin Meyers and and freshman Connor Tavern.
The golf team kicked off their season with a tri-match against Central Valley and Hopewell at Shadow Lakes on Aug. 16. The team lost to both teams, which started them with a record of 0-2, but came back with a win against Beaver Falls on Aug. 19, 262-328. On Aug. 22, the team played on their home course with a match against South Side and fell 276-217. Hedge led the team with a score of 49.
"There's a lot of times when the players don't have good days and get high scores," Hedge said. "If we stop scuffing shots and get the score we know we can get, we can see improvement."
The team took to their home course again to face New Brighton on Aug. 26, but fell short 278-250. Traveling on Aug. 28 to Del MarGolf Course to take on Ellwood City; the team lost 265-217. The next day, the team stayed at their home course, Rolling Acres, for a match against Lincoln Park. The team was successful and beat Lincoln Park 273-326.
"I think everyone on the team is capable of being in the 40s or low 50s and if we can all play our best more consistently than we will really start to improve," Levenson said.
Staying on their home course for their first match of September, the team faced Central Valley and fell short 262-207. In another tri-match, the team took on Beaver Falls and Rochester at Fox Run on Sept. 5. The team destroyed both opponents 265-346-310, respectively. Levenson led the team with the best score of the day, shooting a 46. Traveling to Ponderosa Golf Course, the team face South Side and fell 297-222. The team also took on New Brighton the next day and fell short 274-245.
As the team is mainly compiled of seniors, the majority has goals in mind they would like to complete for their last year of highschool golf.
"For my senior year of golf, all that I really want is to break my personal record and end off the season with the best record I have been apart of," Hedge said.
Following Hedge, other seniors have personal goals as well they would like to complete.
"A personal goal for my senior year is to shoot in the 30s for the first time," Levenson said.
On Sept. 18, Cole Skuse, Levenson and Hedge headed to Fox Run Golf Course to compete in the MAC tournament. They scored 122, 107 and 105, respectively. The next day, the entire team will travel to Blackhawk Golf Course for a match against Lincoln Park, and shortly after will defend their home course on Sept. 25 to face Hopewell.
As Freedom's golf season is soon coming to a close, several members will miss the 2019 season.
"In general, I'll probably just miss the good times talking to my friends and having fun while golfing," Hedge said.
At press time, the team looks to continue to improve and hopefully bring up their final record.