Golf star Tiger Woods involved in single car crash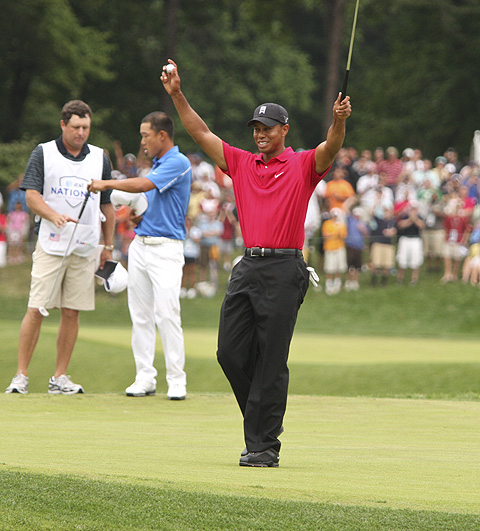 45-year-old golf star Eldrick "Tiger" Woods has faced many challenges and setbacks over his 25 year golf career including a multitude of back issues, but on Feb. 23, he faced his biggest challenge yet. Woods was traveling outside of Los Angeles that Tuesday morning when he crashed his vehicle. According to the police, Woods hit the center divider. He was alone in his Genesis GV80 SUV during the accident. 
Paramedics immediately rushed him to Harbor-UCLA Medical Center for surgery. Tuesday night, Woods' family tweeted that he had suffered multiple injuries in his legs, including fractures in the top and bottom parts of his tibia and fibula. Despite these injuries, Woods was awake and responsive.
During Woods' golf career, he tallied 82 PGA (Professional Golfers' Association) wins and 15 major titles, including five Masters, four PGA Championships, three U.S. Open Championships and three British Open championships. In 2001, Woods became the first golfer to ever hold all four of the major titles at once.
"Tiger Woods is one of the greatest golfers I have ever watched. It's really sad seeing him get into an accident," freshman Logan Bickerstaff said. Woods' most recent major title was a Masters win in 2019.
Later that week, Woods' family again tweeted, "Tiger has moved to Cedars-Sinai Medical center and received follow-up procedures on his injuries this morning. The procedures were successful, and he is now recovering and in good spirits." They then went on to thank everyone that had reached out with support but for also respecting the family's privacy throughout the tough times.
As well as being a great golfer, Woods has also used his platform to help out the community. He is the founder and CEO of his charity, TGR foundation. Woods and his father Earl Woods created the foundation in 1996 to support community programs that help with health, education and the children of America. According to the foundation, they have reached over two million students as well as giving over 250 individuals college scholarships in the 25 years they have been working with the community.
"Woods really shows that you can be a great athlete but also help out and do great work within and around the community," Bickerstaff said.
Many PGA tour golfers including Rory McIlroy, Cameron Champ and Jason Day showed their respect and support for Woods on Sunday, Feb. 28, by wearing red and black. Woods is famously known for wearing a red Nike shirt with black pants and a black hat. 
"It's hard to explain how touching today was when I turned on the TV and saw all the red shirts. To every golfer and every fan, you are truly helping me get through this tough time," Woods said on Twitter late Sunday night. 
Woods will continue to go through surgeries and rehab to recover from his injuries. Many sports experts believe that it will be, at the earliest, six months before Woods is able to return to the golf course, if he is ever able to return.