Groovin' to next block
Music plays between high school classes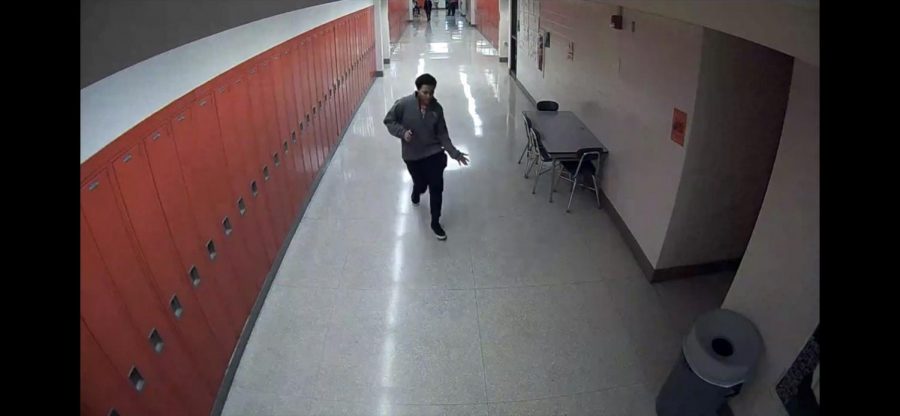 80 minutes; the length of time that a class takes at the high school. With just five minutes between each of those classes. Last year during the month of December, students began to hear uplighting music in place of the bells that dismissed them from their class. 
Music has an impact on the everyday lives of students. Music can provoke emotions such as anger, sadness and happiness. Uplifting music can boost a person's mood. After a stressful class, hearing "September" by Earth, Wind & Fire while walking to your next class can surely boost your mood going to your next class. This can also improve a person's focus to be able to obtain better grades within that class. 
Principal William Dealis the person that controlled the music through the halls. The songs would be played over the sound system. Each song would be picked by a class of students that Deal would walk in to. From there he would go back to the main office and play the song that they suggested to him. 
Each day, the students would pick a different song. These suggestions included songs like "September" and "Car Wash." These songs often had an uplifting beat to it that brought the students moods up. Most of the students and staff seemed overjoyed and ecstatic by the choice to have music. 
Along with the fun times the students had, Broadcast Media Workshop started to take videos of the students dancing. Broadcast Media Workshop is a program dedicated to creating a daily news segment on the happenings of the school and any important information that could be useful to a student  In this video, students and faculty were seen dancing together with huge smiles on their faces. Students and faculty were laughing and smiling. 
So many great things happened from this. Not only were students in a better mood but students and staff were bonding. While walking the halls the students and staff were dancing, but not alone. In fact, they were seen dancing together. Smiles upon multiple faces, bonds that would last and a high school morning that had both charm and happiness. 
In the past, the high school played music between blocks all the time. This was about 10 years ago. Even then did the students and staff  had a good time with this. It also got their moods lifted as well. Spanish Teacher Ruthanne Gudzan and many other teachers were around while this took place. 
"I think the music helped perk up some students, but that really depended on what songs were being played and whether or not it was an artist/genre that a student liked," Gudzan said.
Music has multiple perks such as reduced stress, better sleeping, stretching learning and memory, increased verbal intelligence and raising the overall IQ and academic performances of students. 
"I did enjoy the music instead of just bells. The music changed my mood by making me feel better while on my way to class and by motivating me sometimes. Although I didn't get to pick a song I do believe that all the songs the students picked were good," freshmen Troy Pawlowski said. 
Overall, the music in between classes over the PA system has multiple benefits that can be looked upon. From the student-teacher bonding to uplighting moods, even to reducing the daily life that a student goes through, those five minutes of pure joy will last.