Halloween isn't just a hallow-day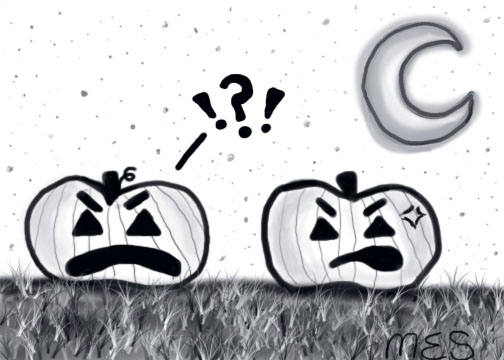 Madison Snavely, Editor-in-Chief (Online)/ Asst. Features Editor
November 2, 2019
Chilly winds invoke the need of warm sweatshirts and fall-like attire. The color orange, purple and green spread across decorations lined up in stores and many homes. Cobwebs are hung on bushes and trees outside as sheet ghosts dance from the trees. Halloween is an incredible holiday that should be celebrated by all, as it is extremely enjoyable for not only children, but adults alike.
Though argued that Halloween can be seen as pointless, it is not. In fact, Halloween decorations can not only brighten a home, but create fun atmospheres for families. Different kinds of decorations can include fun lights, inflatables, cobwebs and other such things. Halloween allows people to decorate homes just like Christmas, and both are enjoyable to set up and take down the decorations.
To add on, trick-or-treating can create fun childhood memories, or even fun experiences for adults and teens. If someone were to dress up in a costume at any other time of the year, people might feel awkward or not know what to say to them. On Halloween, most people wear fun costumes that lead them to either collect or pass out candy. Not to mention, there are several different costumes to choose from. There's the classic costumes including skeletons, witches and ghouls, or there's even costumes from popular television programs or movies. For example, people can dress up like their favorite characters from Spongebob, Stranger Things, Jurassic Park and more.
People might complain that Halloween is pricey and choose not to participate because of it. However, Halloween can be considered extremely cheap. Stores including CVS Pharmacy and Dollar General can sell cheap Halloween decorations that can spice up any environment. Value packs of candy are sold as well to spend less but receive more candy to pass out. To top it all off, some costumes may be expensive, however, DIY costumes are extremely simplistic, cheap and have incredible outcomes that can let anyone have an exciting costume for the holiday. At the end of Halloween, if you go trick-or-treating, you can even receive free candy for the cost of nothing!
"Why do I like Halloween?" senior Khia Crawely said. "I really enjoy having a reason to watch scary movies because I wouldn't do it for anything else."
According to the New York Times, in 2017 alone, scary movies have grossed over $733 million in ticket sales. New horror and fright-filling films are continuously being released and always sell well during the spooky season. Scary movies also make the perfect alternative for people who would rather stay inside for Halloween, where they can still enjoy the holiday.
On top of skyrocketing ticket sales, other sales on other festive products can bring in solid profits for growing companies. According to the National Retail Federation, Halloween spending alone is projected to reach $8.8 billion. This means that costumes would reach around $3.2 billion, candy sales will reach around $2.6 billion, spooky decorations should reach around $2.7 billion and over $390 million will be spent on greeting cards. These sales are great profits for not only larger companies, but smaller ones as well.
Halloween is most definitely a holiday to celebrate. Besides watching scary movies or dressing up in a breath-taking costumes while collecting or passing out candy, there are other scary-cool events that people can attend to celebrate. Haunted trails and houses are extremely popular during this holiday, and make the perfect chilling environment for scary, but fun, endeavors. For the people who would rather not participate in scary events and would prefer to go more mild, people can always go to pumpkin patches and pick out a pumpkin to either paint or carve. People even have trails to show off their incredible pumpkin carving skills, which can lead to amazing creations, including ferris wheels made entirely out of pumpkins. For the kids who would rather not go to a strangers house for trick-or-treating, trunk-or-treat is a fun alternative that organizations and churches host to allow children the experience of a safer, more community friendly way of dressing up and collecting candy.
Overall, Halloween is an enjoyable holiday that should be celebrated by all. No matter how a person decides to spend it, or what costumes or decorations are purchased, Halloween is enjoyable for all ages, and should be considered as one of the top holidays.