Heartbreak that comes with success
Girls soccer team reaches state final; falls in overtime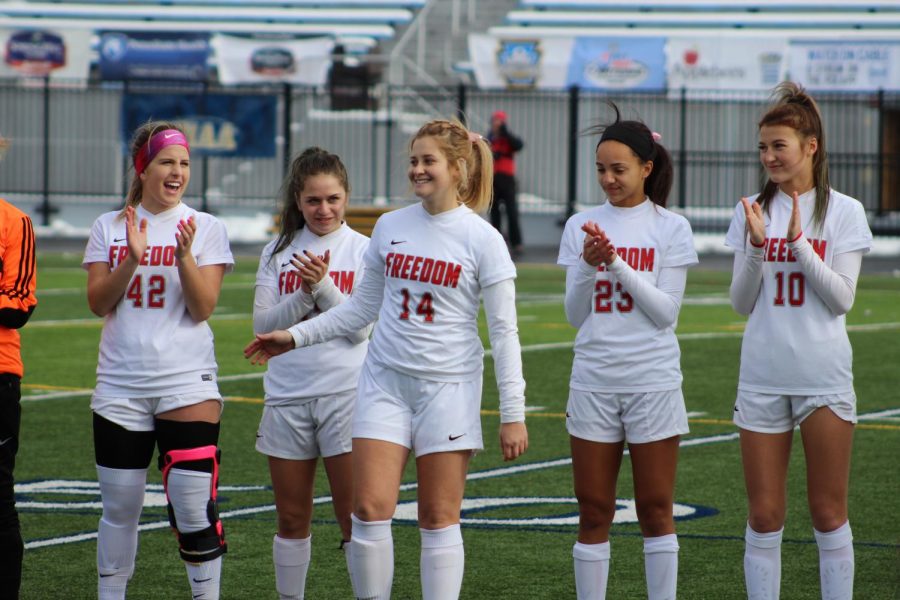 Since the beginning of July, and for four-and-half long months, the girls soccer team has been training day in and day out to perfect their game and prepare for their 2018 season. Throughout the regular season, the girls dominated their competition, outscoring all opponents 186 to 22.
On Oct. 27, in the WPIAL semi-final, the girls took on perhaps their toughest opponent: Shady Side Academy. Regulation ended by a score of 1-1, putting Freedom in their second overtime game of the season.
Freshman Renae Mohrbacher broke the tie in the first half of overtime, sending Freedom to the WPIAL final at Highmark Stadium against Bentworth on Nov. 3 and securing the Bulldogs a spot in the PIAA playoffs.
"What I've enjoyed most about this year was getting to become close with this group of girls, building relationships on and off the field and of course winning," Mohrbacher said.
In the WPIAL final, Freedom dominated the Bearcats by a score of 8-2, led by two goals each from Myla and Jayden Sharpless. This win marked Freedom's second ever WPIAL title and gave the team a strong push of momentum headed into the PIAA playoffs.
"All of the girls feel like they're winners, they all work for one another very well and it's showed in the games we've played. We haven't just scored goals, we've played well," head coach Colin Williams said.
Even into the second round of the state playoffs, Freedom continued to handle their opponents with ease, beating Rockwood 7-0 in round one and Wilmington 5-0 in round two; advancing to the semifinals at Mars Area High school on Nov. 13 where a rematch was set against Shady Side Academy.
At the end of regulation, Freedom found themselves in another tie by a score of 2-2 which remained the score through the first half of overtime. With little time remaining in the second half of overtime, Michaela Watkins broke the tie, sending Freedom to the PIAA state playoffs in Hershey, Pa.
"Obviously our desire was to go forward into the PIAA and we've stepped up our play and have become a really mature team and we know we have the talent that got us to the point that are now," Williams said.
On Nov. 16, Freedom took to Hershey Stadium to play Southern Colombia with the PIAA championship at stake. In a hard fought game, tied after regulation, a goal by Southern Colombia sealed the victory in the first half of overtime, making Freedom PIAA runner up in class A; a huge accomplishment within itself.
"To beat Shady Side to go to Hershey was a once in a lifetime experience that will forever be embedded in my heart," Senior Alexsia Barlamas said.
Even though it wasn't the ending the team and everyone else was hoping for, this team will be remembered as the first team in Freedom history to reach a PIAA championship game and the season will be one fans will remember for years to come.
"These girls and coaches I played with mean so much to me and made my senior soccer season one I will never forget," Barlamas said.