Hot chocolate in a bauble
How to make hot chocolate in a plastic ornament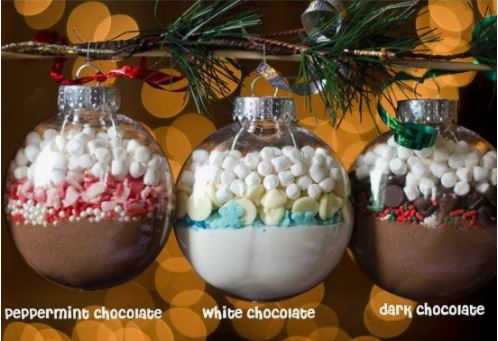 When the weather outside is frightful, and the fire is so delightful, it is truly wintertime. Everywhere someone travels, they might find people selling trees, candy canes or even hot chocolate. People are often sitting inside watching holiday movies, outside in the cold making snowmen or having snowball fights.
No matter what winter activity, drinking hot chocolate while watching a festive movie or after being out in the cold is refreshing. With many different ways to change up the popular winter drink, here's four different hot chocolate mixes that you can put in a clear ornament!
Materials/Ingredients:
Single Serving Instant Hot Chocolate Mix Packets
Crushed Candy Canes
Chocolate Chips (Varieties Optional- milk, white, peppermint, etc.)
Jet Puffed Mallow Bits (Or any other marshmallow, it just needs to be small enough to fit through the ornament opening)
Clear Ornaments (Food Safe and can be opened)
Sprinkles (Optional)
Mugs (Optional)
Chocolate Spoons/Candy Canes (Optional)
Funnel (Paper funnel works too)
Tags
Ribbon/String
Before starting on the hot chocolate ornaments, remove the lids and rinse the plastic ornaments with water. If prefered, wash them quickly and set aside to dry while deciding on the hot chocolate mix combination to start with.
For all of the hot chocolate baubles, start by removing the cap over the opening and set aside. Next, insert the funnel into the opening of the bauble and pour the contents of the hot chocolate packet into the funnel. Now, for the fun part, choose the flavor of the bauble and continue on!
Plain Hot Chocolate
To make the plain hot chocolate bauble, continue on by adding in sprinkles (optional), then chocolate chips and lastly marshmallow bits. Remove the funnel and place the top back onto the ornament.
Peppermint Chocolate
To make the peppermint hot chocolate bauble, start by adding in crushed candy canes in place of the sprinkles from the plain hot chocolate. Next, add in chocolate chips of your choice, depending on which type of chocolate you prefer with peppermint. Finish off the peppermint bauble with jet puffed mallow bits, and replace the top.
Dark Chocolate
To make the dark hot chocolate bauble, follow the instructions for plain hot chocolate, replacing the chocolate chips with dark chocolate chips.
White Chocolate
To make the white hot chocolate bauble, follow the instructions for plain hot chocolate, but replace the chocolate chips with white chocolate chips.
When going to make hot chocolate, put hot milk or water into a mug and pour the mix into the mug. Stir using a chocolate spoon or candy cane to add more flavor and decoration to the hot chocolate. Add some whipped cream if you would like and enjoy!
After filling the baubles with the hot chocolate mixes, decorate the baubles with tags labeling the flavor of hot chocolate and add a ribbon or string to hang the ornament on a tree or just to make the bauble a bit more festive.