Keeping connected
Freedom faculty has been using social media to reach out to community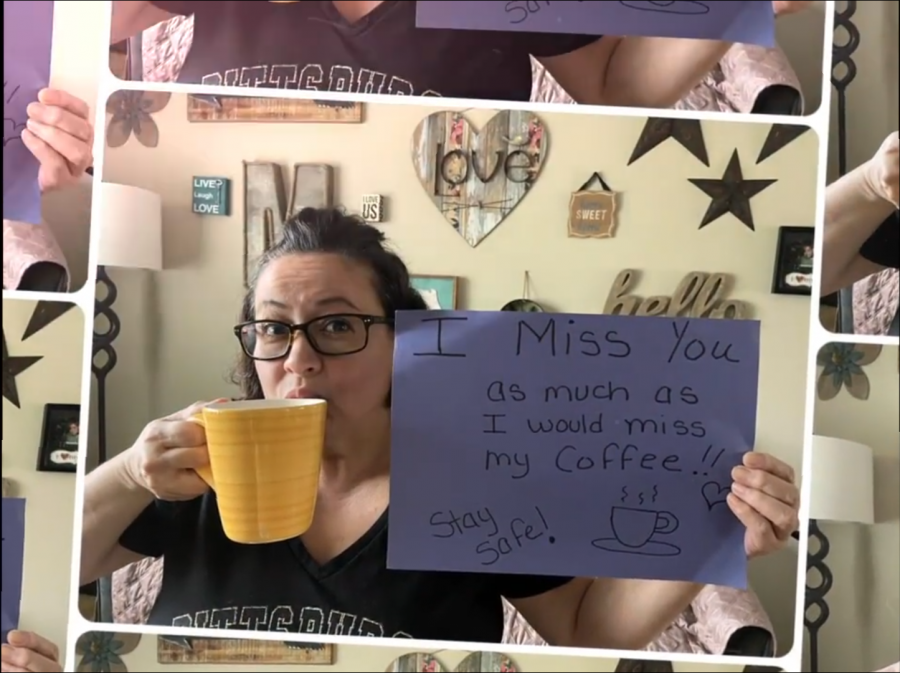 With students learning remotely, they have less interaction with their teachers and faculty. The staff at Freedom has taken a fun approach to keeping in touch with not only students, but the community through various social media posts. The district's social media accounts even posted a virtual spirit week to try to keep the district engaged.  
What's the Deal?
High school principal William Deal created the series based off of an idea from years prior. It was meant to give people information during these uncertain times. His videos are posted on the district social media pages and feature a catchy jingle to start. He films inside his house, giving updates on the district whether it be academics, sports, etc. The video is an easier way to spread information, people are more likely to watch a short video than read a lengthy letter or email. 
"This is one of the weirdest and unfortunate events I've experienced in my life as an educator, but it has also highlighted the very best in people which is so encouraging and heartwarming," Deal said.
Social Smithstancing
This series by middle school principal Ryan Smith aims to inform the public similar to "What's the Deal?". He also covers a range of topics in order to produce information to everyone in the community.
Sidewalk Math
Middle school teacher Wendy Clibbens has started a series called "Sidewalk Math". When she came up with this idea, Clibbens was spending time outdoors when inspiration struck and decided to record it. In her videos, she uses math and numbers by incorporating them into an outdoor activity. She uses a variety of levels from kindergarten through eighth grade. So far, she has used sticks to make shapes and even played a game of hopscotch. She hopes that not only can she make math fun but also get kids to stay active and healthy by spending time outside.
"I want my students to know that math is connected at all levels. The math that you do in kindergarten is connected to the math that you do in sixth grade. Also, that math is connected to everything around you. Finally, that math can be fun!" Clibbens said.
Faculty Slideshow
After being suggested at an elementary school meeting, the staff agreed on making a slideshow. Technology teacher Jesse Gagich spearheaded the operation due to his video production background. He recruited teachers to send pictures to use for the video. Many teachers from all three buildings were included. Each picture held positive messages to encourage any students missing school. Originally hoping for 50 volunteers to make a quick three-minute video, Gagich was pleasantly surprised by the 84 submissions, allowing him to create a video over six minutes long. The video has gained numerous views on Facebook from members of the community.
"Everyone who submitted a picture was trying to connect with students.  Based on the feedback, mission accomplished," Gagich said. 
Remote Storytime
The idea originated as people began to make remote learning plans, multiple companies were providing free resources for families and teachers. Originally, Principal of Freedom Area Elementary School Emily Mather, would connect each story she read to a resource or activity. The program evolved to consist of videos of Mather reading children's books uploaded to Facebook. Other faculty members have since joined in and follow a schedule. Teachers involved recorded on their phones, introducing themselves and the book. Mather tries to get the videos posted every morning to connect with families.
"I continue to be grateful and overwhelmed by the amount of support by our freedom faculty, staff, and community. I have teachers reach out daily asking for more spots to be added to the schedule," Mather said. Due to the overwhelming involvement, the guest reader each day can be a fun surprise for children.
" These stories are released each day for an instructional purpose, but also to bring joy through connections with our students and community.  Those connections are at the forefront of our daily instruction, and in this remote learning phase, it is necessary for our students to see us, and know we are here for them.  We are grateful to the authors that have allowed us to share their work in order to connect with our students each day," Mather said.
Stadium Lights
To honor the seniors during the pandemic, the lights in Bulldog Stadium shine for them. The lights will be turned on for 20 minutes at 8:20 (20:20 in military time) every Friday until the end of the year.
Meal Distribution Updates
Along with lunches, all three distributing locations include dinners as well. Lunches now come with heating instructions for the food. Procedures are still the same, volunteers are now required to wear masks.