Keeping the ball in their court
The girls basketball team continues their season strong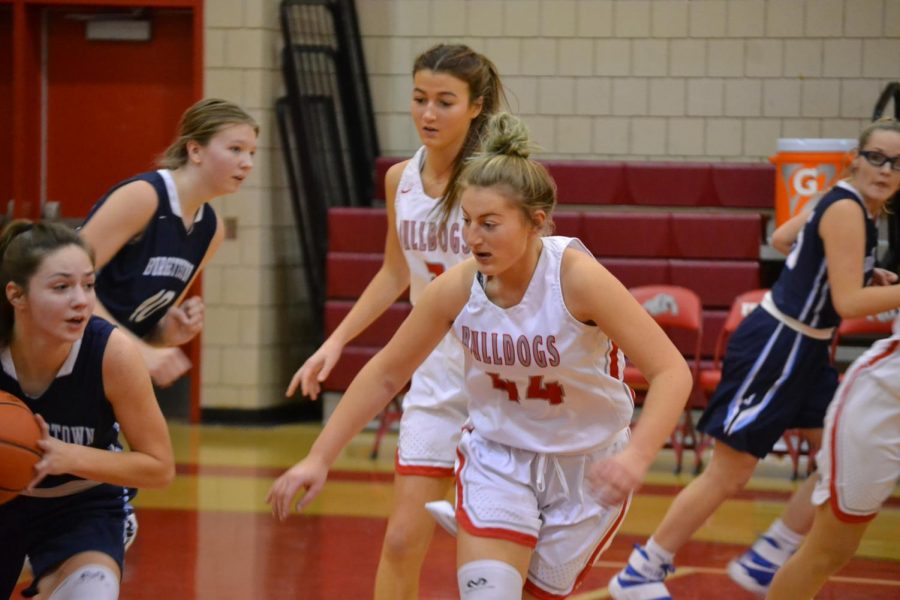 The time counts down on the clock. Seconds fly by as drops of sweat run down the players' determined game faces. The sound of sneakers running down the squeaky gym floor echo through the gymnasium. The ball dribbles rapidly, looking for a new player to take control of it. With a sudden swish, Freedom scores again and the game has come to a close. Freedom once again claims victory.
The Lady Bulldogs continue their season with high hopes of winning and working on improving their current skills.
"I think this season is going good so far, we started off not that great, but going into the second [half] I feel we have a lot of potential to do better," sophomore Karissa Mercier said.
Before winter break began, the girls played on their home court against Beaver Falls on Dec. 18 and fell short 58-50. The next day, the girls played against the Aliquippa Quips and earned a victory with an end score of 59-40. On Dec. 20, the girls packed their bags and traveled to Neshannock to play against the Lancers and resulted in a defeating score of 18-67.
"The second half of the season will go much better because of how much we improved," junior Morgan Swab said.
After a cold winter break filled with holiday and New Year's activities, the girls headed back to the court. Staying home on Jan. 3, the girls faced the Mohawk Warriors and fell to a score of 56-37. Getting back on their feet, the girls played on Riverside's home court on Jan. 7 and beat the Panthers 44-37. Back on their home court on Jan. 10, the girls came face to face with Beaver Bobcats and fell in a close game of 33-27. Defending their home court once again the next day, the Lady Bulldogs excelled in a victory with the score of 39-30 against the Burgettstown Blue Devils.
Throughout the season, the girls are striving to make this season the best yet and continue making strong bonds.
"I think the team gets a lot great and we all help each other," senior Alexsia Barlamas said.
This season, the team ranges from girls currently in freshman year and senior year. The seniors are playing their last season for the Lady Bulldogs. However, currently, the seniors are thriving.
"Senior year basketball is going good. Always having fun, laughing with each other and making good memories," Barlamas said.
Finishing out their season in February, the team will be defending home court on Feb. 1, Feb. 7 and Feb. 11. On Feb. 4, the girls will be taking on the Lady Lopes at Avonworth and soon after will be facing an away game at Quigley on Feb. 6. Come out and support the team as they continue to strive and push through the season.