Knee-deep in golf season
Golf team looks to improve under senior leadership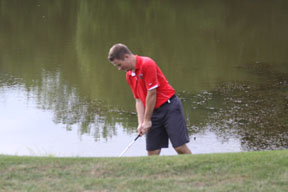 The golf team went shooting for the green this year with seven seniors, five sophomores and one freshman. The team began practice in August to prepare for their season. The captains, Seniors Cameron James and Stu Skogsholm, along with the other players, have been working together to improve their skills. The upperclassmen are working one-on-one with the newer members to mentor them and help harness their skills.
"[Cameron and I] as captains, watch the other players as we're playing in practice in matches to help give tips and to keep spirits high. Everyone on the team, captain or not, does this for everybody else. We're out there together so we use it to our advantage," Skogsholm said.
The upperclassmen have been watching for common errors and problems to help the other players' skills.
"A lot of [the new players] are having some trouble with different things and I do my best to help them out," James said.
On Aug. 24, the golf team faced off against one of their biggest rivals, New Brighton. They lost, after a close game of 233 to 241. Following the loss, the team harnessed their skills and won their next two matches. On Aug. 26, the team won against Lincoln Park with a final score of 226 to 288. Then, on Aug. 31, they defeated Beaver Falls, 233 to 258.
"Everyone in the top six did their part and that's exactly what we need when it comes to winning the more difficult matches," James said.
One of the players in the top six is Sophomore Jesse Starr.
"Being a sophomore and on varsity is a fun experience because most of the players this year are seniors and have more experience than I do and by playing with them I get more teaching so we can become a winning team," Starr said.
On Sept. 2, the team broke their winning streak and lost against Beaver, 234 to 254. Following this match, Freedom played South Side the following week and lost, 224 to 198. But, the team didn't let the loss bring them down. On Sept. 10, they played New Brighton again and defeated them by two strokes. The score was 214-216.
During this game, Senior Tyler Logan hit a ball on the edge of the pond. Instead of taking the extra stroke he decided to take his shoes and socks off and get knee-deep into the water and pitched the ball, while in the water.
"I think it helped out Stu because I made his day, I believe it also helped him shoot better," Logan said.
On Sept. 17, the team won against Beaver Falls with their lowest score of the season, 209 to 250.
Following this win, the golf team sent four of their top players to the WPIAL Section Qualifying Tournament. This was on Sept. 22, and was an all day event. Skogsholm placed third in the section with a score of 85 and James placed fourth with an 87. However, due to changes in tournament qualifications, golfers had to score 80 or better to advance to the WPIAL Finals, and neither Bulldog golfer advanced.
"The overall goal is to qualify so, overall, I didn't meet the goal. I did want to qualify in my senior year but I had a good time trying," Skogsholm said.
Then, on Sept. 22, the golf team played their last home match of the season against Beaver. The team fell to Beaver 209 to 229. Beaver still remains undefeated.
Even though the team has losses, they always try to build each other up.
"Our team gets along very well and we have a good relationship, on and off the course. It is essential in my eyes for us to play good and with great coaches, it helps me and the others a lot," James said.
The golf team has won five matches and lost four. The team has matches on Sept. 28 against Quigley and on Sept. 30 against South Side. To find out the results of these matches, and updates on the rest of the season, go to FHS-Press.com.