Lions, tigers, abuse! Oh my!
Circus animals are not always mistreated in circus environments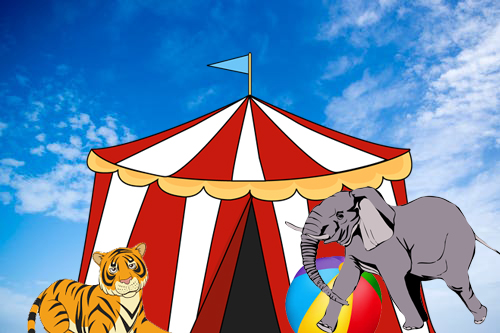 At one point in time, circuses were a fun activity for families. As time passed, circuses started to earn the reputation of abusing the animals involved in the shows.
Circuses are supposed to be fun and a place for children and their families to see clowns getting out of tiny cars and watching people do tricks on tightropes. However, one big misconception about circuses is that all circuses mistreat the animals that are a part of the entertainment. But there are circuses with people who care about the animals that they work with.
Circuses without animals seem to lack a way to interest some people. To me, one of the funniest parts of going to the circus was before the circus began and an elephant would be painting with their trunk as one of the side attractions.
As someone who went to the circus for a few years while I was in elementary school, I can fully say that the animals were the best part. Witnessing elephants and tigers do tricks made me feel like the trainers must love those animals and spend tons of time to train them. In my opinion, watching people on motorcycles drive around a ring or ball made of metal is not nearly as interesting as watching large groups of animals do tricks while other activities are happening around them.
Countries around the world have different approaches to having animals in circuses. There are countries that have banned having animals in circuses completely; yet, some countries have limited restrictions, such as only having local bans on animals in circuses.
Despite the negativity that is associated with circuses, circuses have always been fun to see such as watching people do tricks, clowns climb out of a miniature car and more. Circuses are supposed to be a place where children could be entertained and wonder how these magical tricks are taking place.
Unlike in the United States, some other countries still have circuses. For example, some circus performers in Europe still believe that circuses are good events. Monte Carlo and Monaco are two places that have people who strongly believe that circuses were being falsely accused of animal abuse.
While people might still strongly believe that circuses are abusive to animals, there are so many examples of circuses outside of the United States that have been able to operate without abusing animals. Circuses are supposed to be a place for children to have fun and spend time with their families, not for claiming animal abuse.