'Match of the century': The highly anticipated Mayweather Pacquiao match disappoints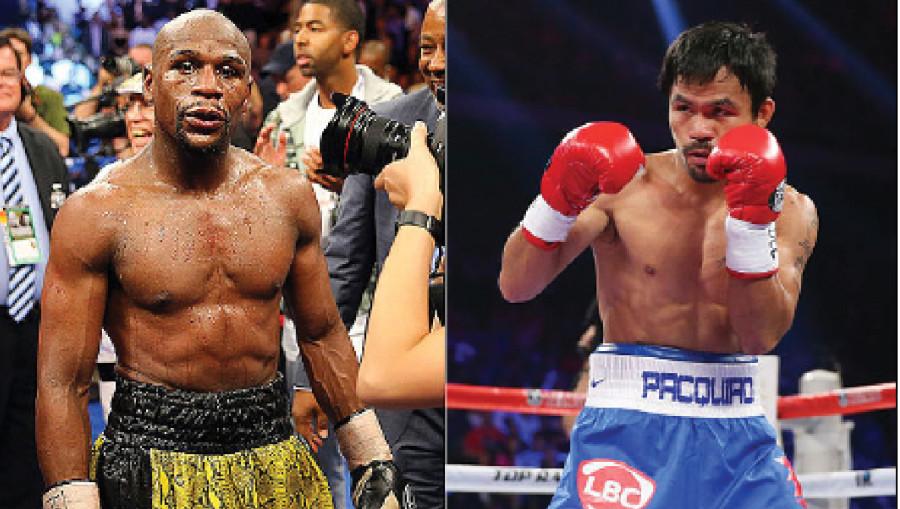 On May 2, boxing saw its biggest match in a great number of years as Floyd Mayweather took on Manny Pacquiao in Las Vegas for the World Welterweight title. This is a matchup that had been long awaited by boxing fans, as Mayweather and Pacquiao are regarded as two of the best boxers in recent years. The expectation for this fight was large, but whether or not they were realistic, or if it was just a way to make money of their names before they begin to mean nothing is a question that still needs to be asked.
The match, for the most part, didn't live up to the expectations, for it was efficiently 12 rounds of Mayweather dodging Pacquiao's punches. Both fighters were trying to fight in a way that benefitted them; however, their conflicting mindsets made for a less entertaining match. The left-handed Pacquiao came out slow in the first round, but got to his quick aggressive fighting style, in which he delivers a lot of high power punches, quickly in the other early rounds. Mayweather, on the other hand, wanted to use his strong right hand and defensive style to counteract Pacquiao's punches.
A major factor throughout the fight was the fact that every time it looked as though Pacquiao had gained the upper hand in the fight, Mayweather would grab him and almost hug him until the official told him to let go. This was efficient in muffling Pacquiao's explosiveness that comes when he's able to throw a flurry of hard punches. The story of the early rounds was that Mayweather was successful in not letting Pacquiao connect with his powerful left hand and using the hug to get out of bad situations.
The second half of the fight was full of Pacquiao desperately trying to sway the judges' votes and Mayweather countering Pacquiao's aggressiveness with nicely-timed jabs. As the match wore on, Mayweather seemed to look more and more passive as it was clear he was in the lead on the judges' scorecards. Mayweather won a few decisive rounds in the second half and seemed to coast to his 48th victory to push his record to 48-0. With one judge voting 118-110 and two voting 116-112, Mayweather won the fight by unanimous decision.
The fight wasn't what many fans had hoped it would be, largely because both of these men are years past their primes, making this fight more about the money than the actual fight. However, despite his age, Pacquiao looked much slower than many had expected and it can largely be contributed to the fact that he was fighting with a torn rotator cuff, which was disclosed after the fight. This injury had surely affected Pacquiao's ability to fight aggressively in a large way, as it is a very significant injury. The result of the fight, however, is unchangeable, as Mayweather is still the Welterweight champion and is refusing a rematch with the largely-regarded number two of the world.