Memorial serves to honor Freedom veterans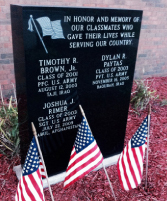 Freedom High School Veterans Memorial honors Freedom's alumni who served in our country's military.
Veterans Day is held on the anniversary of World War 1 (formally known as Armistice Day) each year to honor all U.S. veterans and victims of all wars. FHS has had three men who chose to join the armed forces and were killed in their time of service. They're remembered by a Veteran Memorial located outside the high school. One of these fallen soldiers was Army Private Dylan R. Paytas.
Paytas, of Freedom, Pa. was a FHS class of 2003 graduate. He died in action on Nov. 16, 2005. Paytas was serving in Baqubah, Iraq and was 20 at the time. He was assigned to the 3rd Brigade Troops Battalion 3rd Infantry Division, in Fort Benning, Georgia. He is survived by John and Diane Paytas and his two younger sisters, Kayla and Senior Isabella Paytas, who currently attends Freedom High School.
"[Dylan] was a kind and charming brother and person. He lit up any room he walked into and had a kind word to say to anyone, even a stranger," Senior Isabella Paytas said. She was eight years old when he passed away.
"Although his death was a tragedy, he would not want me to dwell on his loss all the time, so instead I keep his memory close at heart and he is constantly on my mind," Paytas said.
Other community members said he loved hunting, basketball and just life itself. He was described as a happy-go-lucky person, but an earnest, hard worker by former Freedom faculty members.
"He was loved by many, and anyone who knew him would have a kind word to say about how great of a person he was. He touched many lives and will never ever be forgotten," Paytas said.
Other recipients of the honor include Timothy Brown Jr. and Joshua J. Rimer.
Brown, of Conway, Pa. graduated in the Freedom class of 2001. He passed away at 21 years old on Aug. 12, 2003 while serving in Taji, Iraq. He was a Private First Class assigned to D Company, 519th Military Intelligence Battalion in Fort Bragg, N.C.
"Tim was a great kid, very honest and hard-working," Mr. Peter Kappas said. Brown was his former seventh-grade student.
"Even in seventh grade, Tim knew he wanted to go into the military," Kappas said.
He was buried in Arlington National Cemetery in Va. along with 25 other casualties to be buried there at the time. Brown also received a Purple Heart and a Bronze Star among other military honors.
Rimer, of Rochester, Pa. graduated with the Freedom class of 2003. He was killed in action on July 22, 2009. Rimer was serving in a Zabul province in Afghanistan. He was assigned to the 4th Engineer Battalion, in Fort Carson, Colo. and was 24 years old.
He played the trumpet in the band and sang for chorus. He was in the production of "Jesus Christ Superstar," among other musicals and loved being in the marching band.
"His heart was big, and his desire to be involved was big. He was a leader, and always a character, too. But he made it fun," Mr. Keith Kovalic, a former teacher and friend of Rimer, said.
He chose to join the military right after graduation and spent three years in Iraq on his first tour. He received a Purple Heart for sustaining shrapnel wounds to his neck. After receiving the high honor, he continued to be dedicated to the military.
"He was one of those kids that left high school, but remained a friend. Very few do that. Josh would come back and visit when he was on leave, and he'd tell me stories about where he was at and what he was going through," Kovalic said.
When the news came, a service was held at the middle school for him, and people said that the school was packed.
"What touched me the most about it was that when Tom Taverna [another former student] had his [funeral] service, Josh, a young lady and I sang a song in his memory. When Josh died, I sang the same song at Josh's service," Kovalic said.
He is survived by his widow Annalisa, and other family members, including his sister Shannon Rimer.
"He was a good kid, a really good kid, and I would've taken ten of him if I could," Kovalic said.
Because Veteran's Day celebrates the lives of these soldiers, their courage and sacrifices will never be forgotten.