Monopolizing students' futures
Partially-flawed college testing plays big role in students' choices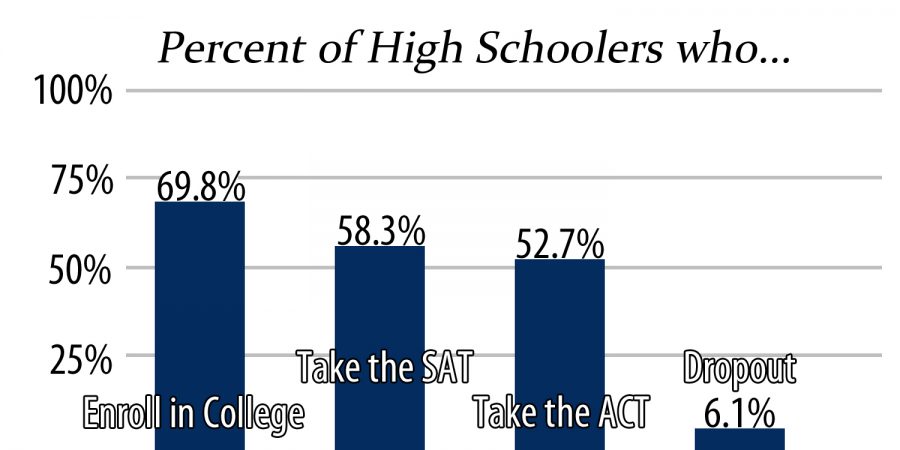 Cole Skuse, Business Manager/Copy Editor
February 28, 2019
Three letter acronyms seem to dominate many high schoolers' experiences: SAT and ACT. Every year, over three million high schoolers that plan on attending college take these tests. In the present, this seems entirely normal. Oftentimes colleges will require students to submit their SAT or ACT score as part of their application. Since the SAT's creation in 1926, testing has become commonplace for a majority of high schoolers, but have these tests created a one-directional path for high schoolers?
According to the Bureau of Labor Statistics, 69.7 percent of 2016 graduates enrolled in a college following their completion of high school. For the past 25 years, this number has stayed consistent, bottoming out at 61.6 percent in 2001 and maxing at 70.1 percent in 2001. With the number of students attending college, a large portion was required to have taken either the SAT or the ACT. Are these tests really a true show of knowledge?
In reality, the tests only account for a fraction of a student's knowledge or future career field. The SAT is comprised of an evidence-based reading, writing and two math sections (one uses calculator, one does not), whereas the ACT has English, math, reading and science. Both tests have an optional essay that students can take at an additional cost. Neither directly recognizes the amount of knowledge students obtain in history or non-core requirements. If a student is going into a medical field, how important is it that they can interpret the mood of a passage?
In classrooms, teaching may be based around preparing students to take the SAT or ACT. What purpose could a class structured like this have for a student who doesn't plan on attending college? The structure of these classes could change the students' minds and shift their focus to take the SAT or ACT and lead them to a college. But is that really fair?
There are many more classes that are geared towards college-related tests compared to those oriented towards trades or jobs that don't require post-secondary education. Essentially, students have much more exposure to college-based learning than other forms, which can work in favor of colleges.
"The test doesn't necessarily have an impact on whether or not students go to college, but rather the emphasis of going to college. The tests are more or less necessary if you plan on getting a post-secondary education," college-bound senior Nathan Galderisi said. "The pressure from these classes definitely pushes some people in the direction of college. Their whole life they have been told that a degree is the way to go."
Competitive colleges frequently set their sights high when looking for applicants. Any applicant could probably tell you their college of choice's score range. This is because these major tests scores are almost always a factor in a college's decision to accept or deny a future student. Of course, these tests aren't the only aspect of a student's transcript. In reality, the score represented on a student's transcript isn't really a representation of hope much knowledge he or she may have; it's really a representation of how much the students know on the test they took.
"[Test scores] are a significant contribution in colleges' decisions," Galderisi said. "By far they are more important than just your grades alone. It could be the reasons some students get into college."
In 2014, Business Insider reported the SAT might have been changed to its current state to increase profits for their group responsible for producing the SAT: College Board. Currently, the SAT costs $47.50 to take without the essay ($64.50 with) and the ACT costs $50.50 without taking the essay and $67 with the essay. Various fees can be applied if a student registers late or wants to change their test date. Though College Board is classified as a non-profit organization, many employees of the company earn over $200,000 a year. Would a company that is looking for education equality really pay employees more than the national average instead of lower the costs of tests?
From the lack of all-around content on the SAT and ACT to their pressure on future college-goers, there are some flaws to consider, like the missing coverage of many career fields on these essential tests. Despite these flaws, the tests still are ever-important to those who seek post-secondary education. This pressure, overall, has monopolized the futures of many by forcing them to take these tests in order to have a successful future. Does success based on a partially-flawed system really guarantee the success of students in the future?