Mr. Smith goes to high school: Corris leaves FASD, Hernandez moves to middle school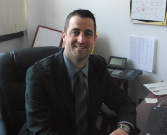 Hang on for a minute...we're trying to find some more stories you might like.
After the resignation of Dr. Darlene Corris, Mr. Frank Hernandez left Freedom Area High School to fulfill Corris' former position as Freedom Area Middle School Principal. Until someone is permanently approved to fill Hernandez's former position as the assistant principal, Mr. Ryan Smith, the former Lead Teacher at the Middle School, is the Interim Assistant Principal.
"I'll be the Middle School Principal, so I'll be in charge of all curriculum, instruction [and] assessment, so I'll be working with teachers to make sure that they offer kids rigorous and challenging learning opportunities," Hernandez said. Hernandez said goodbye to the FHS students and staff at an assembly on Feb. 17.
"All I've ever known was Freedom High School. I student taught here, I subbed here, I worked with Mrs. Martz and the counselors here, I taught U.S. history here, coached here, I've been [in] the play before here [and] I've been an administrator here," Hernandez said at the assembly.
As the Interim High School Assistant Principal, Smith will be filling the position for the time being, but it's unknown if he will be in this position permanently. The district will be going through an interview process with applicants and the person to fulfill the position will be approved at a future board meeting.
"[Smith] will be filling in while people apply. Once we know who all has applied, we'll do whatever interviews are necessary and then, we'll choose from that pool of applicants to choose who the next high school assistant principal will be," Principal Mr. William Deal said.
"No one has been appointed to Mr. Smith's position as Middle School Lead Teacher at this time," Superintendent Dr. Jeffrey Fuller said.
"My goal is to be fair and consistent for all students. I want to be able to communicate with the students as the make choices, good and bad," Smith said. Smith will also be coaching track and field in the spring, which will give him more opportunities to connect with the students.
Smith will be picking right where Hernandez left off.
"I think he'll have to focus on the same thing I need to focus on down there, [which] is getting to know the student body, knowing their strengths and what they can bring to the table to enhance the education at Freedom," Hernandez said. Smith plans to do this by walking around the school halls, going into classrooms and sitting with students during lunch periods.
"I really enjoy this age group of students. I started my career out in a high school setting and I was excited to get the opportunity to do it again. I also really enjoy the staff here at the high school and look forward to a great finish to the year," Smith said.
All these changes have been made because of Corris leaving the middle school principal position. After two years of being assistant principal at the high school and two-and-a-half years of being principal for the middle school, Corris has left the district to teach in Pittsburgh. She left Freedom Feb. 11 to go to her new job at Pittsburgh Public as their K-12 Science Director.
Starting out in Freedom, she was the assistant principal at the high school and then took the principal position down at the middle school when the opportunity arrived. Now, after six years, she has decided to go to Pittsburgh.
"When the opportunity with Pittsburgh Public was offered to me, I contemplated my decision heavily, talked it over with my family and decided that the opportunity would allow me use the knowledge gained by my Doctorate, it would allow me to go back to the Science curriculum that I love and influence learning from a different perspective," Corris said.