Multi-school mania: A hockey player's take on playing for a different school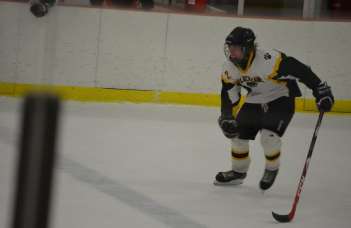 Some people are better skaters than others. A few trip over their feet as soon as their skates touch the ice, others were born to play on it. There are three boys in Freedom that were born to play on the ice, but have to represent another school while doing so.
Freedom's players are given the option to play for Blackhawk. They can play on the junior varsity or varsity team, depending on their skill level.
This switchup can be difficult at first, as different teams run different systems, which means that after just learning Ambridge's system Freedom players are tasked with learning the Blackhawk systems. FHS hockey players had to make this transition when they began playing for Blackhawk.
"It was a bit of a switch at first because we went from a familiar, laid back environment to a new, much morecompetitive one," Junior Stuart Skogholm said.
Any transition is bound to have its difficulties, because leaving the natural comfort zone can be a hard thing to do.
However, the hospitality of Blackhawk's players and fans made the transition easier, according to Skogsholm.
"The guys all accepted us quickly, though, and we became close very quickly," Skogsholm said. "Everyone accepted us right away, even the Blackhawk fans. Now, we are just as much a part of the team as anybody."
The players felt accepted when entering into the new team.
"The acceptance [made] the transition between two incredibly different teams easier," Junior Alex Lundy said. "I can't say [that] I dislike playing for Blackhawk because I've played with most of those guys in amateurs for as long as I can remember."
"My favorite goal was scored way back in eighth grade, during a double overtime in a playoff game. I had a breakaway and scored the goal that took us to the championship," Lundy said. "As for this season, we beat Meadville so badly that their coaches gave us seven buckets of KFC."
While memories are being made, the process of being on a new team can be added stress to the newcomers. It's not just the players that welcome the new players, but it's the fans as well.
"As for the people paying attention to hockey, I can't really say it would bother me if we had 100 people in the stands or 20," Lundy said. " As long as I'm playing the game I love, I will be happy. Don't get me wrong, it's always great to see your friends cheering you on."
Being new to the team may be hard at first for some players, but Skogsholm, Lundy and Junior Kenny Rose were able to make the switch without too much difficulty.
After becoming great friends with their teammates and playing many games together, the Blackhawk team has scored themselves a playoff position.