Muscles and murals
Art clubs begins their largest project in the weight room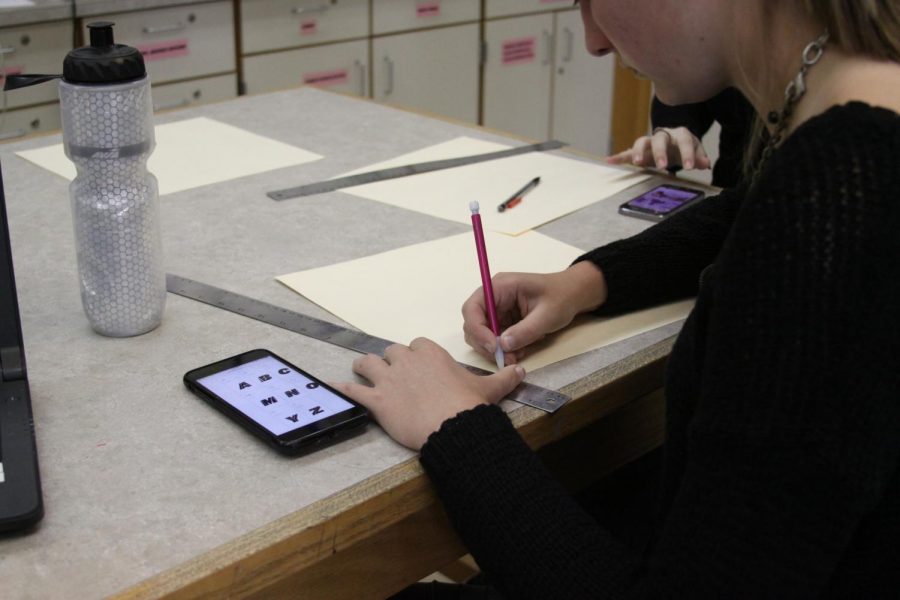 A new year means new projects for the Art Club. The Art Club has created many large murals, many of them are the very first thing you see when you walk into the high school. Although there is a great deal of art throughout the school, the one place in the high school where there is no art is the weight room.
One of the biggest projects that the Art Club is doing this year is the new mural in the weight room. The students involved in Art Club are all participating and will all hold a special part in the creation of the mural.
"The students in the Art Club will be working on the project. There are about 10 individual designs needed for just the weight room, so it will take help from all of the Art Club students," Art Teacher Mrs. Kaylee Haggerty said.
"Everyone was asked to create sketches and we all voted on the one we like the best," sophomore Morgan Swab said.
Swab enjoys being able to spend her PLT doing something fun and is able to further her art interests while being in the Art Club.
Since the weight room is a smaller area, not many people are able to work on it all at once. They have a group of two or three students taking on the task of creating the mural. Those students do not have a set schedule or date that it will be done. Also, since there is such a small group of students working on it, it is expected to take a little longer. The students taking the lead on the mural are juniors Serenity Price and Lynzey Waddingham, but there will be other students helping them with the mural. Their start time depends on how smooth the design process goes. Whether the students have time or not is when the students work on the mural. The students will work on it when they have time in PLT.
The weight room mural is not the only mural getting created this year. The Art Club is also going to be working on a large mural in the office. There will be a small group of students working on the office painting as well. The two students who are taking the lead on it are juniors Jenna Engel and Kaitlyn Saunders.
The mural in the weight room may be the biggest, but it is not the only significant one being created this school year. There are many other large projects that the Art Club is expected to do. For example, they expressed their want for a mural in the office. This is already looking like a very eventful and busy year for the Art Club.