News in Brief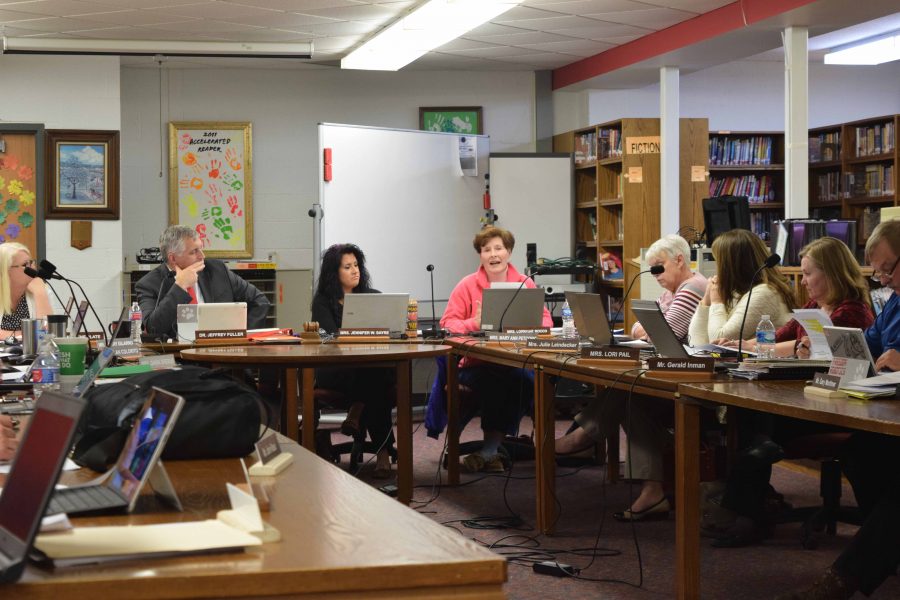 2014-2015 KEYSTONE AWARD-
Big Knob has received the 2014-2015 Keystone award for academic excellence. Big Knob was also one of three schools in the county to receive this.
MICROPHONES-
The school board is again learning how to use the microphone system through trial and error.
EVERY STUDENT SUCCEEDS ACT-
Ms. Lorraine Rocco presented an excerpt about her time involved in a study group meeting, dealing with the Every Student Succeeds Act along with other education personnel from around the state. Of the initial 120 people that applied to be a part of this group, only 80 were selected, Rocco being one of them. Some areas of study were schools in the bottom five percent of the state and teacher evaluations.
SUPERINTENDENT AGREEMENT-
Superintendent Dr.Jeffery Fuller was approved for another five years as superintendent, which will be effective July 1, 2016 through June 30, 2021.
RETIREMENT IN THE HIGH SCHOOL-
Mr. Henry Podbielski, high school career coach, will be retiring at the end of the 2015-2016 school year.
PEARSON ENVISION-
The school board discussed the implement of the Pearson Envision 2.0. Teachers decided to pilot this new program for grades K-5. They have received ongoing support from Pearson. Teachers went to Mars School District to collaborate with teachers that have been using this program, and by the end of the day, Freedom teachers were excited to get started with this program. The six year agreement will cost $82,112 and will include digital components, which include parent resources so they can be successful when helping their children at home, new textbooks every year for the six years and math manipulatives to help students understand the lessons with hands on learning.
MONTHLY GROUNDS REPORT-
New piping and hot water tanks have been installed in the science wing of the high school. Director of Buildings and Grounds, Mr. Gary Mortimer, expressed an interest in a new van for the school to replace the 2005 van we currently have. Mortimer stressed that, after ten years of service, this van has been through a lot and is about "ready to retire." Engine lights and other notifications are constantly on when the van is used. He emphasized that the van can fit into his budget and also said that the current van can be sold.
ELEMENTARY SCHOOL-
The one year anniversary of the newly-built elementary school will be on September 7, 2016.
ATHLETIC DIRECTOR'S REPORT –
Athletic Director Mr. John Rosa, Athletic Trainer Jackie Cryzter and newly instated football coach Mr. Tom Liberty attended the UPMC Concussion training on April 7 at Heinz Field in Pittsburgh. This training focused on what kind of things parents should look for when it comes to concussions and ways to try and prevent concussions while playing sports.
The May school board meeting will take place on Thursday, May 12 and the June meeting will take place on Wednesday, June 14 in the middle school library and 7:00 p.m..