NFL draft draws record viewership as first major sporting event since shutdown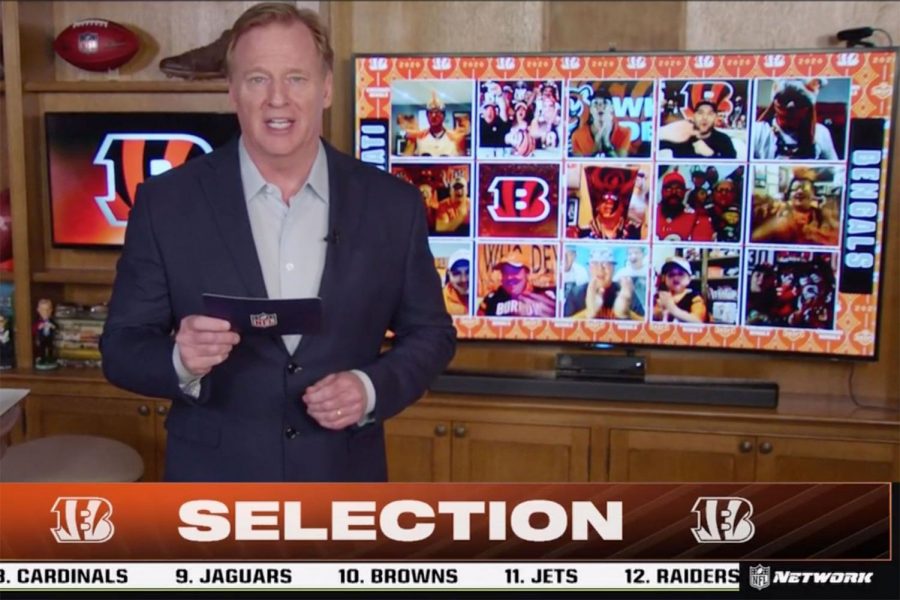 The first round of the NFL draft started on Thursday, April 23 and concluded on Saturday, April 25. However, due to the impact COVID-19 has had on major live events, the draft was conducted completely virtual, as there was no in-person attendance. Despite the lack of flash and high-quality production, this year's draft experienced record-breaking viewership statistics and turned out to be a big success.
This year's draft was supposed to be held in Las Vegas because the former Oakland Raiders were moving into their new field, Allegiant Stadium, which is scheduled to open this summer. The NFL draft typically moves to a different city each year, where a three-day event full of fans, celebrities, media and the soon-to-be drafted college athletes all show up and enjoy the festivities. Unfortunately, this all had to be canceled as the growing concerns over COVID-19 seemingly worsened.
On April 6, NFL Commissioner Roger Goodell released a memo confirming that the draft would be "fully virtual." He also mentioned that all team facilities were to be closed to general managers, coaches and other employees until further notice.
This left many people wondering how the draft would work, what could be done and will it run smoothly? The NFL worked with Microsoft to design an app that general managers, owners and coaches could use to place their picks. If the app were to fail, there were backup plans in place to call or email their selection to the league.
Goodell announced each selection as he always does, except this year, he did so from the basement of his house. Team officials also had draft room setups in their homes across the country. Each coach and general manager had cameras set up which allowed the feed to be broadcasted live when their selection was being made. Many coaches and general managers had multiple computer screens, phones and whiteboards spread across their kitchen tables, offices or living rooms as they communicated with each other, other coaches, general managers and the NFL. Each general manager had the option to keep one IT worker in their home in case a major technology issue occurred but all seemed to run smoothly.
In fact, the draft ran so smoothly that many people are saying that they enjoyed this new format better than the large production that is typically put on every year. Viewers saw the athletes celebrating with their families at home on the couch instead of on the red carpet. Coach's children joined the fun and celebrated the pick on their father's lap and even family pets like Nike, New England Patriots head coach Bill Belicheck's dog, who made an appearance on his chair as their selection was being made.
"I thought it was really cool to get a small glimpse into each player's home life and seeing them all able to celebrate with their family's after being drafted," Casey Collins said.
This year's draft was much simpler than years past. It humanized the athletes, coaches, general managers and even Goodell as we saw him slowly slump further and further into his recliner as the rounds went on. Not to mention it recorded record-breaking statistics. It drew over 15.6 million viewers across ESPN, ABC and the NFL Network, which was a 37% increase in viewership from last year's draft. This was partly because sports fans were excited to experience a live event for the first time in over a month but also because people were curious to see how it would turn out.
While the draft certainly was not what anybody was used to seeing, it brought some much needed live entertainment and it got sports fans excited for the first time in a while.