Not-so-Polar Plunge
Unseasonal temperatures a pleasant surprise for annual Special Olympics fundraiser participants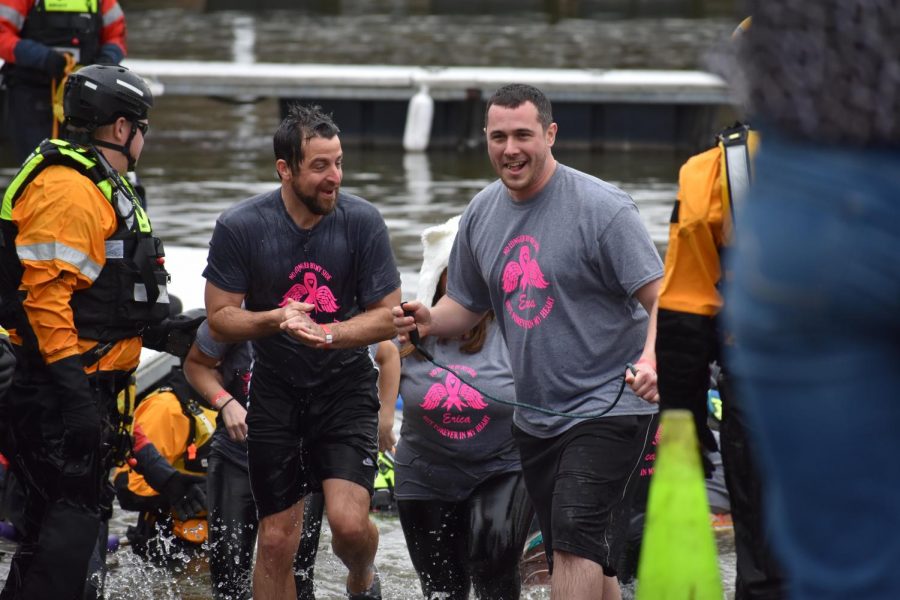 Baylee Stewart, Co-Editor-in-Chief (Print)/Photo/Design Editor
January 31, 2020
On Jan. 11, Beaver County's annual Polar Plunge took place. Every year, this event takes place in Bridgewater to raise money for the Special Olympics. Taking the plunge means that you essentially "plunge" yourself into the Ohio River. However, in addition to getting wet from the river, you are taking the plunge in mid-winter, which means you are jumping into very cold waters.
However, this year the cold water and freezing weather were absent. Normally, the average temperatures for this event are around 35 degrees Fahrenheit. During this Saturday that it took place on, the high temperature was 69 degrees Fahrenheit. That is almost double the normal temperatures for January so the plunge this year was much warmer without the low temperature water. 
Freedom has been participating in the Polar Plunge for six years. This year, there were 15 participants who took the plunge into the water. Those who were on the team were Gena Tokar, Mary White, Shanda Wyatt, Kim Aland, Wendy Kline, Chad Kline, Ryan Smith, Ashley Fetchin, Steven Mott, Heather Andrews, Emily Mather, April English, Tom Liberty, Heidi Orrico and Bill Deal. This team was made up of teachers, school administration and community members.
In addition to all of the people who participated, one teacher's dog participated. Elementary teacher Karen Suhhayda's dog, Tyson, also took the plunge into the Ohio River. He was led by Mott into the water.
Everyone on the team raises money for this cause. This year, Freedom raised $4,300. All of the teams are ranked by how much money they raised. They came in sixth place out of all the teams at the Beaver County Polar Plunge.
"The Polar Plunge is a great event where we come together as a community to support a wonderful cause. This year was emotional for the team, because we were missing a very important member, Erica Davids. Before plunging Mrs. Mather said a few words to celebrate Mrs. Davids' legacy and what she meant to the District," Mott said.
This year's plunge had a tribute to one of Freedom's elementary teachers. Kindergarten teacher Erica Davids passed away this past December. The members of the team all wore shirts in honor of her passing. The shirt stated, "No longer by my side, but forever in my heart." It also included her name and a breast cancer awareness ribbon.
Mather also gave a speech right before they plunged into the water. She stated how Davids cared so much for her students in her class each year. She also shared how kind Davids was.
"She would want you all to find the best in every child, every teacher, every person that's here today that's fighting for every piece of the Special Olympics," Mather said about Davids.
Right after this speech, they all took the plunge into the waters. Overall, all of the teams raised more than $115,000 for the Special Olympics.