Off on a great foot
Boys' Soccer season is up and running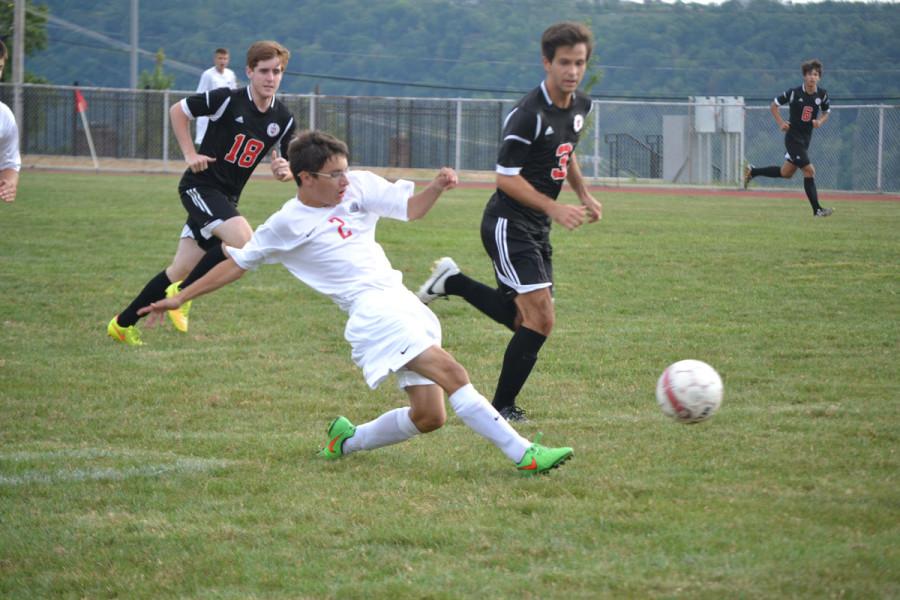 For some, September brings about the start of school, but for the Boys' Varsity Soccer Team it brings about the much awaited soccer season. As the cool Fall air blows, they're hard at work practicing and competing against local schools.
While most students spent June relaxing after just having completed the school year, the Boys' Soccer Team got right to work, starting to practice for the upcoming season. While those very first practices weren't mandatory, the whole team had to be in attendance at conditioning and their week of practice starting in early August.
With just two starting seniors, the team is fairly young, but they don't let that hold them back. In fact, they have won six of their eight games so far this season. The seniors, though there are few, make their presence known on the field. As their final season begins, they're focused on victory, and making lasting memories.
"My favorite part about the soccer team this year is that we have been controlling the ball more than we have in years past." Senior Captain Vince Rose said,"In previous seasons we would often rely on our offense's speed and kick the ball up the field towards the other team's goal in the hope that our offense could get to the ball first, but now we are passing with more purpose and making much better plays more often,"
While the other players are mainly underclassmen, they haven't let their age show on the field. In fact in the first four games, seven out of their nine goals were scored by underclassmen.
"I'm definitely enjoying my first year on the team. I'm getting to play with people I've grown up playing beside," Freshman Ethan Paxton said.
With their record of 6-2, the team is hopeful for the outcome of the season, and since they made it to the playoffs last year, they're hopeful to accomplish that feat again this year.
"I really would like to see our team make it further into the playoffs than we have in years past," Senior Captain Eric Eisenbrown said.
While the seniors are working to leave a lasting impression on the team, the underclassman are setting goals for themselves as well.
"During my high school career I want to make it to finals and keep going until we make it to the finals of State's," Sophomore Ben Wright said.
This year the boys' team had the opportunity to play against Quigley Catholic at Highmark Stadium and won with a score of 4-2. That was the first time the boys were able to play at Highmark following the positive reaction to the girls getting that opportunity last year.
There are still plenty of games left in the boys' season, leaving them time to accomplish their goals and claim even more victories.