Playoff performances produce prideful players
Bulldog players bring home awards after playoff run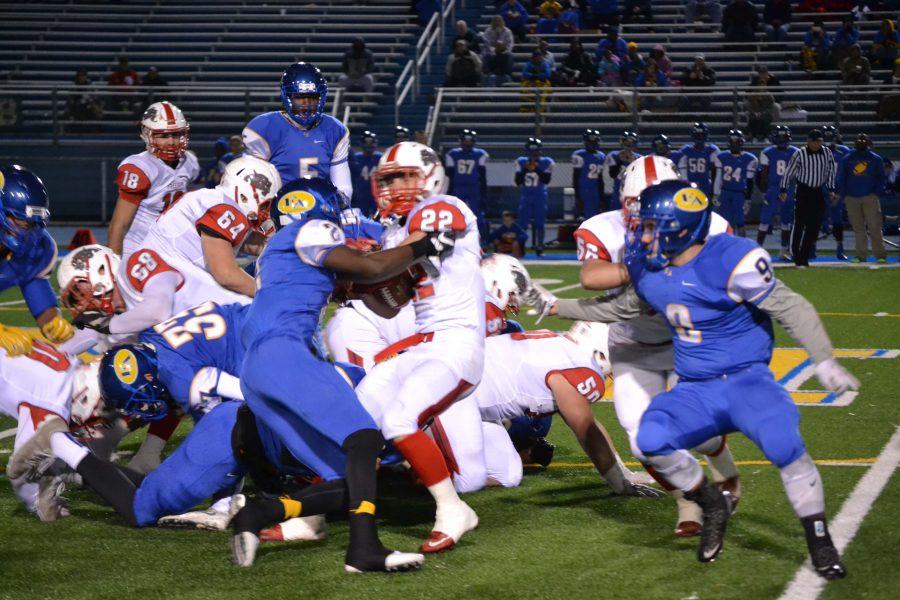 Freedom Football concluded its first season with Tom Liberty as head coach by finishing the season with a 4-8 overall record (3-4 in section). The team put an exclamation point on their season by downing the East Allegheny Wildcats by a score of 38-21 before falling in the second round to Riverside Panthers 21-7 in the second round.
The Bulldogs' substantial upset was led by senior Dean Ward's offensive effort as he rushed for 177 yards and three touchdowns in the Bulldogs' win. Junior Kyle Borgman added 120 rushing yards and a touchdown of his own to help the team to have the team's best rushing performance of the year.
Unfortunately, the Bulldogs weren't able to have the same success on the ground against Riverside, as they were only able to gain 191 yards on 54 rushes as compared to the 267 rushing yards on 61 attempts the week before.
"The end of the season was bittersweet, because we knew we made it farther than any Freedom football team had since 2003; but, we also knew we could've beat Riverside and kept it going," senior Dean Ward said as he reflected on the Bulldogs' playoff run. "For the most part, we are pretty happy with what we did."
Several of the Bulldogs' standout players were honored through All Conference honors with eight different players being named to the All Conference in addition to 10 players receiving honorable mentions. Of the eight players named to the All Conference team, five of them were named to the All Conference first team. Seniors Nick Henderson and Evan Sweesy were selected to the offensive first team, seniors Randy Simmons, Dean Ward and Henderson were named to the defensive first team and senior Zach Greene was named All Conference kicker and punter. Henderson, Simmons, Ward and Greene were all unanimous selections to the All Conference team.
"It's a great honor that other coaches voted for me on both offense and defense, and it was great to see a bunch of our other guys get the honor as well," Henderson said of getting All Conference honors. "It's great to see our team get some recognition and respect from the conference this year."