Plunging into the cold
Freedom faculty and community members participate in the Polar Plunge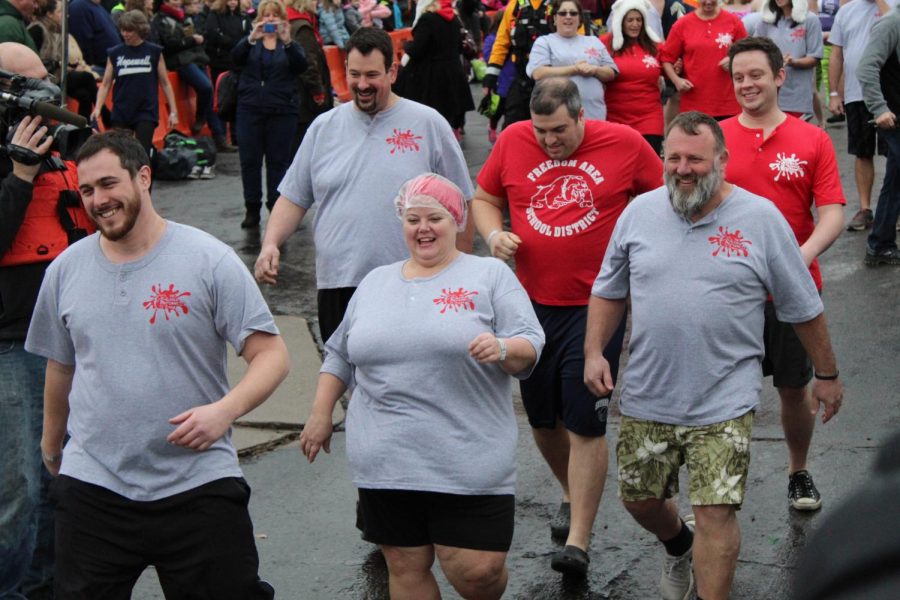 On Jan. 27, 2018, Freedom faculty and community members plunged into the cold water in Bridgewater Landings Marina. The Polar Plunge is a fundraiser for the Special Olympics Pennsylvania (SOPA).
Each year, Freedom raises as much money as they can for this cause. Some faculty and community members of Freedom go into the cold water of the Beaver River; a lot of people around Beaver County participate in this event.
This year Freedom's goal was to raise $5,000. Freedom Area School District exceeded their goal and raised a total of $6,860 for the Special Olympics. Freedom Elementary raised about half of the total amount at $3,391.
"The money was raised through paw prints stamps, paws-itive bulldog messages, principal for a day raffle, Artsy Doodle event, and online donations raised by the staff and elementary parents participating," Elementary Teacher Ms. Gena Tokar said.
The county's total goal was $100,000. So far, they have reached a total of $90,797. Donations are still being accepted to reach their goal. Schools and communities have helped reach this amount of money through this event.
People around Beaver County enjoy participating in the Polar Plunge. The event brings people all around the county to watch people raise money and take a plunge for this cause.
"My favorite part about the plunge, and why I continue to do it each year, is to see where the fund go that we raise. Pennsylvania Special Olympics is such a great cause and to see the smiles and the opportunities it gives the participants that compete, makes getting really cold, all worthwhile," Freedom Community Member Ms. Mary White said.
There were 13 participants from Freedom who took the plunge on Saturday, Jan. 27. These participants consisted of Elementary teachers Gena Tokar and Erica Davids, High School teachers Dave Badamo, Aaron Fitzpatrick and Jeffrey Griffith, Faculty William Deal, Steven Mott and Linda Eldridge and Freedom Community members Wendy Kline, Chad Kline, Chris Keller, Mary White and Kimberly Aland. There were others who donated, but did not participate in the plunge itself.
Some of these participants have been partaking in this event for up to five years, such as Gena Tokar. Some have just signed up this year and some like to just donate for this cause, such Dave Badamo.
All of the money donated at this event and to this cause will go toward the Special Olympics. The Special Olympics have events throughout the year with different sports for children and adolescents with disabilities to perform in.