Region-worthy talent
3 students from FHS participate in Region Band festival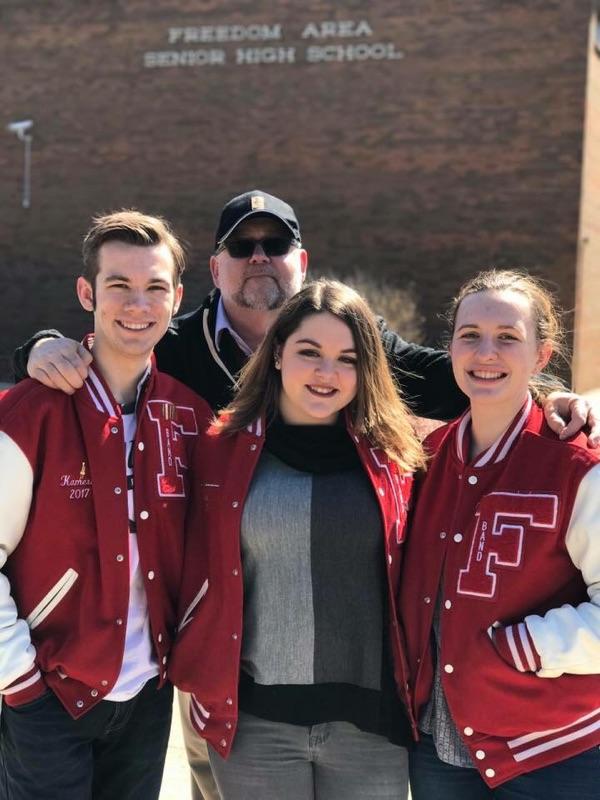 From March 22 through March 24, Sharon High School held this year's PMEA Region 1 Band event. FHS Seniors Kameron Mayhue, Nikki Kammer and Hannah Shumsky were accompanied by band director Keith Kovalic after they had made it past District 5 band auditions. Mayhue attended for the trumpet section, Shumsky for the clarinets and Kammer for the flutes.
Along with all of the other young musicians who moved on from their district, these three attended both auditions and a practice in the evening of March 22.That night, both Shumsky and Mayhue earned a place in the State Wind Ensemble, in which they will perform at the Warner Theater in Erie, PA on April 22.
On March 23, they partook in a practice which took up the better part of their day. That morning, they found out what place they received in their sections. Mayhue was first Chair, Shumsky was third Chair and Kammer was 10th Chair for each of their respective sections. Although they received these rankings, they were not this chair overall due to the parts they played in the band's songs; however, they were scored the same way as those who had a different part.
Due to their placements, they've been able to make connections and gain new friends in their sections.
"The one thing I value the most is the friendships I made with fellow trumpet players from other schools. There is a group of four trumpets from District 5 and we have sat next to each other every year since our sophomore year because we were always the ones that scored the highest. We are all seniors, and we have become great friends," Mayhue said.
While Shumsky and Mayhue play different instruments, their experiences were similar in terms of friendships made.
"Aside from the amazing news of making Wind Ensemble, I met so many clarinet players and gained new friendships. In fact, I found a lot of people in Region Band who will be attending Slippery Rock University this fall, so it's great to know that I already have friends for when I get there in the fall," Shumsky said.
The band had their concert on March 24. Under the conduction of Dr. Bradley Genevro, the Director of Bands at the University of Texas at El Paso, they played "Esprit de Corps," "A Solemn Place," "Divertimento," "October," "Danzon No. 2," "Cheerio March" and "Wedding Dance."
"[Genevro] had us laughing all over the place," Mayhue said.
Each of them expressed quite positive feelings about the event overall. Shumsky found greater motivation to continue her musical career beyond high school.
"This experience gave me more confidence in my abilities and gave me more motivation to continue music in college. I made memories through talking to new people and creating powerful messages through music. I don't want those experiences to end after I graduate from FHS, so Slippery Rock is gaining another excited and dedicated clarinet player this fall," Shumsky said.
"Going to regionals was an interesting experience. Playing with an ensemble of that skill was something that I had never gotten to experience before," Kammer said.
Mayhue found it to be an enjoyable experience for the several years he has gone.
"I am not going to do anything with music after high school because I am majoring in chemical engineering, so PMEA has been just a fun thing to do during high school, and I absolutely did enjoy it. It's given me memories that will last forever. I can remember last year at State Band where the hotel caught on fire and I had to run out in the parking lot in my bare feet," Mayhue stated.
Whether they continue on with their musical work, each of these FHS students made great accomplishments, as well as a few friends and memories along the way.