Representing with honor
Four band students represent Freedom with performance at Honors Band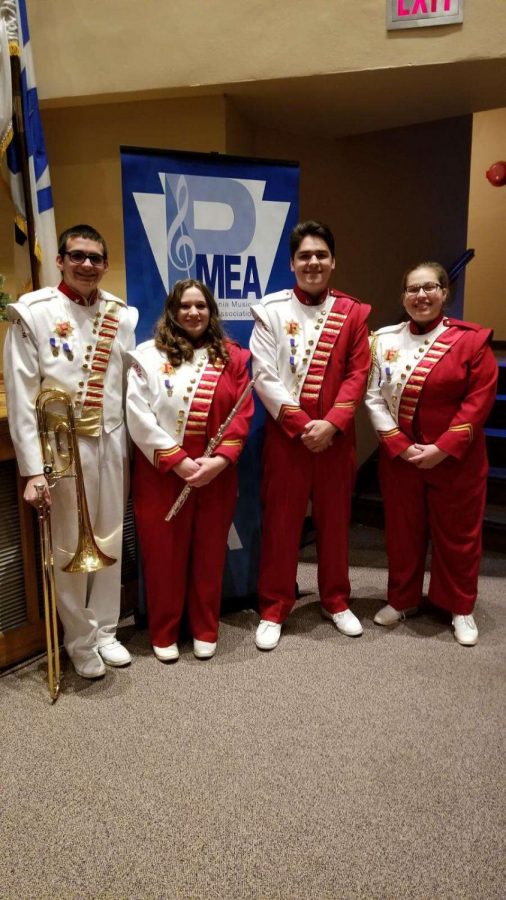 Every school year, some members of the band audition for honors band: a program run through the Pennsylvania Music Educators Association (PMEA). The PMEA is a statewide nonprofit organization that promotes the musical development of Pennsylvanians.
This year, five students from Freedom attended auditions at Westminster College on Nov. 13. They each received their music which they had to learn and then perform for their blind audition in which the judges did not know who was auditioning. Of these five who played, four qualified for honors band. The selected students consisted of sophomore Marissa Lammie, juniors Mason Hedge, who also made it last year, and Cole Skuse as well as senior Mikayla Evans. Hedge received fourth chair for percussion out of seven. Skuse placed eighth out of ten chairs for trombone and both Evans and Lammie received the final chair in their respective categories, euphonium and flute.
"It was an honor to be selected into the honors band program," Lammie said. "Last year I had auditioned and didn't get in. However, that didn't stop me from pushing myself to try harder to get in the following year."
The four students traveled back to Westminster on Nov. 29 where they began rehearsals with other students from the surrounding area that make up District 5. Rehearsals were six-and-a-half hours long, from nine in the morning until 3:30 in the afternoon. They took place throughout the day on Nov. 29 and Nov. 30.
The following day, Dec. 1, there was a short three hour rehearsal and a banquet for the honors band students at noon. Two hours later, after all of their hard work learning the music, it was time for the actual concert. The students performed seven pieces throughout the span of the hour-long concert. The Star Spangled Banner, A Symphonic Portrait by James Swearingen; the Salute to PMEA, which is standard for every PMEA event; Up by Anthony O'Toole; Oasis by Patrick Burns; Symphonic Suite by Clifton Williams; Deir'in De by Warren Barker and finally Texas Star by David Lovrien.
Patrick Burns was in attendance for the concert as a guest conductor. Burns is from Bloomfield, New Jersey and has a distinguished career as a composer and much more. At the age of 17, Burns founded the Bloomfield Youth Band which has been recognized for its outstanding artistic achievement by the U.S. Congress among others. His own compositions have been played by military bands in Washington D.C. and other countries worldwide. His music has been published by six different publishers and has appeared on Bandworld's Top 100 list of band compositions five times. He also currently teaches at Montclair State University and Caldwell-West Caldwell Public Schools.
"He was extremely polite and made the event fun. He had multiple stories that he told and was funny," Lammie said. "What I took away from meeting him is that you can always find something you can do that you love. He had lost his career as a clarinetist at the age of 28 but he turned around and started to compose and direct. You can always improve upon skills you have and find new ones that you love."
To top off the event, Hedge and Evans learned on Nov. 30th, they were selected for districts which will be held from Jan. 24-26 at Beaver High School.
"Making it to districts is an honor and I look forward to reconnecting with people from last year's districts and this year's honors band," Evans said.