Review of Billie Eilish's new album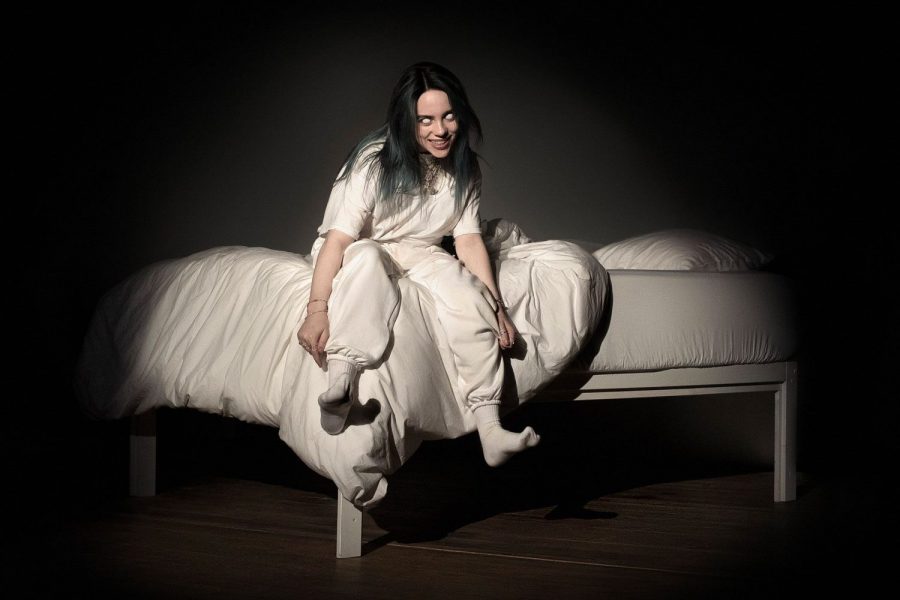 Music from different eras tend to share a common theme, with Billie Eilish, she takes the common theme with modern pop and indie music and puts a twist of horror into it. Eilish is 17 years old and has been singing since 2015 with her first song "Ocean Eyes" and released her first album on March 30 this year.
Eilish goes from being silly and bubbly with dancing around and laughing in her music videos and contrasts it with having spooky and unsettling imagery present in the songs itself. Eilish goes from her happily dancing around to crying a thick black river of tears or having tarantulas walk on her face and coming out of her mouth.
There's a mix of visual aesthetics in her music and the music videos with her modern rap and tomboy fashion, soft indie singing voice and modern pop edits in the songs. She seems to dress in a predominantly tomboyish fashion with baggy shirts, basketball shorts, long jorts, etc. She has a variety of color and environments in her music videos with the music contrasting that as gloomy and upsetting. In her music video bad guy it starts out in a mustard yellow backdrop to a sky blue office and then outside on the sidewalk. This differs from bury a friend where the main settings are a dark bedroom, dark hallway and bright white room.
Her songs have a modern feel with modern digitally created basslines, a unique horror kind of feel to it especially with how her voice is distorted.