Ripped shoe tears into debate on college athletes, damages Nike's image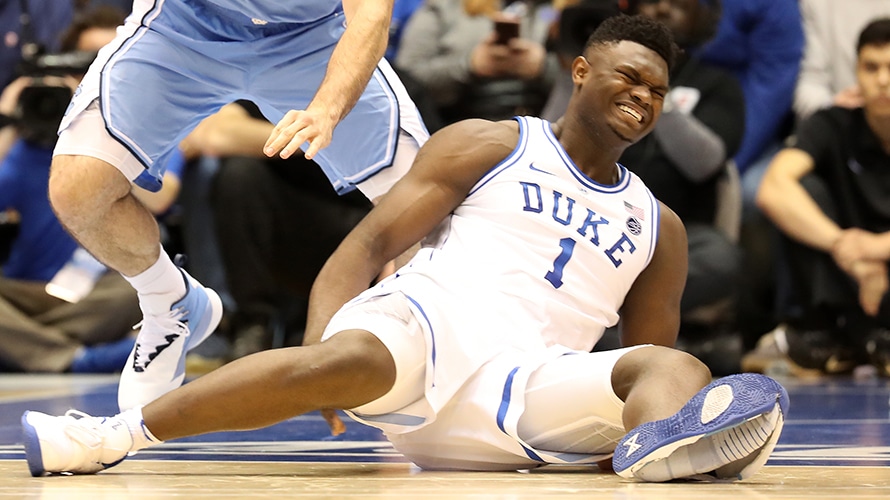 It's not everyday that a 6'7", 285 lbs. talent such as college basketball star Zion Williamson steps onto the court. Williamson, who joined the Duke Blue Devils as a freshman and entered college ranked as the second best high school prospect in the country, has had the attention of fans, athletes and celebrities all season long.
In the matchup between the Blue Devils and the North Carolina Tar Heels on Feb. 20, all eyes were on Williamson — including former President Barack Obama and film director Spike Lee who were in attendance — as he looked to lead his team to a big win against their rivals.
Just 36 seconds into the game, Williamson planted his left foot to make a pivot when the sole of his Nike PG 2.5 sneaker tore almost completely off from the shoe itself, causing him to fall in an awkward, split-like position. The star sprained his knee from the accident and did not return for the rest of the game.
"Personally, this accident doesn't sway my decision to wear Nike's since this hasn't happened to me before, but I can see it swaying other people to different brands like Under Armour," varsity basketball player Tyler Borgman said.
Williamson wasn't the only one who was injured from his shoe ripping. The incident also caused Nike to feel some of the pain and has sparked many conversations relating to the NCAA and college athletes.
As soon as the incident occured, Nike was berated on social media for the obvious failure of their product. Nike is a company that is based solely on the performance and technology of their products. When someone like Williamson, who is expected to be drafted as the number one overall pick in the NBA draft next year, exploits a flaw in the shoe design, one could imagine there would be substantial backlash.
In fact, the morning after Williamson's injury, Nike's market value dropped nearly $1.1 billion and their stock had dropped a little over one percent. The incident definitely is not a good image for Nike, who produces athletic wear and equipment for athletes across around the world. Not to mention all of the athletes, colleges and professional teams that they have brand deals with, including Duke who they have sponsored since 1993.
This strange accident has a lot of people saying that Williamson should sit out for the remainder of the season in order to preserve himself for the NBA next year. Others think that all college athletes should simply sit out for a year until they turn 19 and avoid risking injury completely.
"I don't think that Zion should sit out the rest of the year, but I feel that Nike should do something to figure out why this happened because Zion could have torn his ACL and dropped a lot in the draft and really hurt his future," Borgman said.
The NBA has a rule known as the "one-and-done rule." The one-and-done rule makes it impossible for a basketball player to declare for the NBA draft immediately after high school. Athletes have to play at least one year of college or some other type of minor league basketball. This, on top of the fact that college players do not receive any pay from the NCAA which makes roughly $1 billion per year, are the reasons why many believe it is best for athletes planning on going to the pros to sit out and save their bodies. After all, why risk getting hurt for no money when you have the potential make millions if you get drafted?
However, there may be new, more serious considerations for college athletes to take when deciding if they should play collegiate level sports. The NBA may have to change their rules in order to avoid the one-and-done players and the NCAA may have to figure out a way to make it worthwhile for athletes to play in college and potentially risk injury. No one knows what is to come, but one broken shoe certainly has had a bigger impact on sports than anyone could have predicted.
Shoes and other equipment break all the time for athletes. While this could have happened to anybody; this particular incident involved one of the biggest names in sports at the moment, on national television, in front of celebrities, during a huge matchup against Duke's nemesis, the North Carolina Tar Heels. Nike will likely recover, their name still intact.