Running in stride
Track and field members get early start to season through indoor track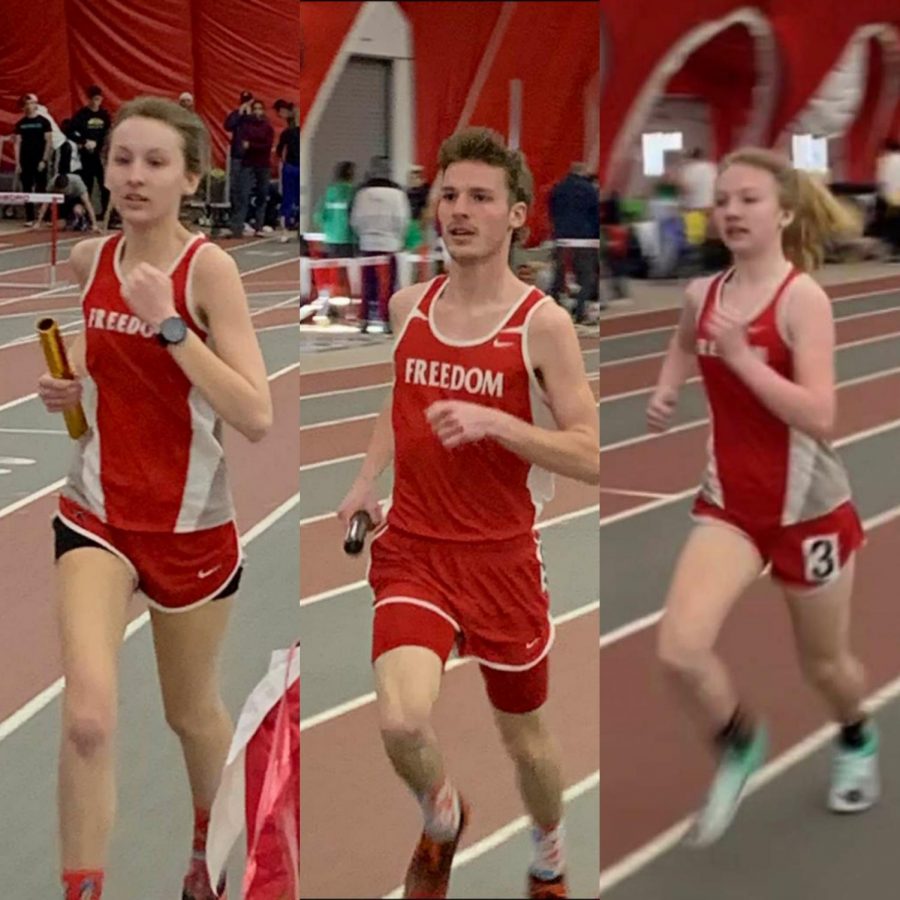 Outdoor track and field doesn't start until March. For most athletes, this start date is perfect, but there are a few who want to get a jump on their competition. These track and field members who want to get in more races, extra throws and early jumps are the ones who join the indoor track and field team.
This year's indoor team consisted of 13 members: seniors Brandon Majors, Hunter Black, Adam Hessler and Morgan Swab, juniors, Garrett Paxton, Logan Shaffer, Colton Heasley and Bailey Roberts, sophomore Jay Hessler, freshman Finley Paxton, Leannah Messenger and Katrina Adams and Quigley Catholic senior Lillianna Briscoe. 
"It helps to do indoor track because it helps you get ready for the outdoor season so you can win more races and also be more prepared," Garrett Paxton said. 
Ed Shephard coached the boys and girls indoor team this season as he always has in the past, despite stepping down as head coach for the outdoor track and field team. Outdoor track was taken over this year by Tom Hickey who is coaching the boys and Dave Badamo who is coaching the girls. 
"I wanted to do indoor because I knew it would be good practice. I wasn't able to practice pole vault very much after the last outdoor season. Indoor track helped me to get some more practice in before outdoor started and helped me to gain an idea of what a real meet looks like so I was prepared for my first high school meet," Adams said. 
The indoor team got started early this year. They began practicing on Dec. 9, stretching, getting loose and even running, jumping and throwing outdoors when the weather permitted. 
The first Tri-State Track Coaches Association (TSTCA) indoor track meet was on Saturday, Jan. 4 at Edinboro University. From there the team traveled back to Edinboro on Jan. 11, Jan. 18, Jan. 24 and Feb. 8 and Feb. 15 as members competed each time in their respective events. 
On February 22, the TSTCA Indoor Track and Field Championship took place once again at Edinboro. In order to compete in the championship, competitors had to have ranked high enough in their event throughout the season. 
Out of Freedom's 13 members, seven qualified to compete in the championship. The qualifiers consisted of Garrett Paxton, Adam Hessler, Jay Hessler, Shaffer, Heasley, Finley Paxton and Swab. 
Unfortunately, none of the athletes performed well enough to advance to the Pennsylvania Track and Field Coaches Association Indoor Track and Field Championship which was held on March 1 at Penn State University. 
Although Freedom's indoor team did not make it as far as they would have liked, this indoor season definitely got them ready for outdoor track and field where they hope to make a run at the WPIAL Championship.