Say yes to the (prom) dress
New trends, styles emerge as 2020 prom season approaches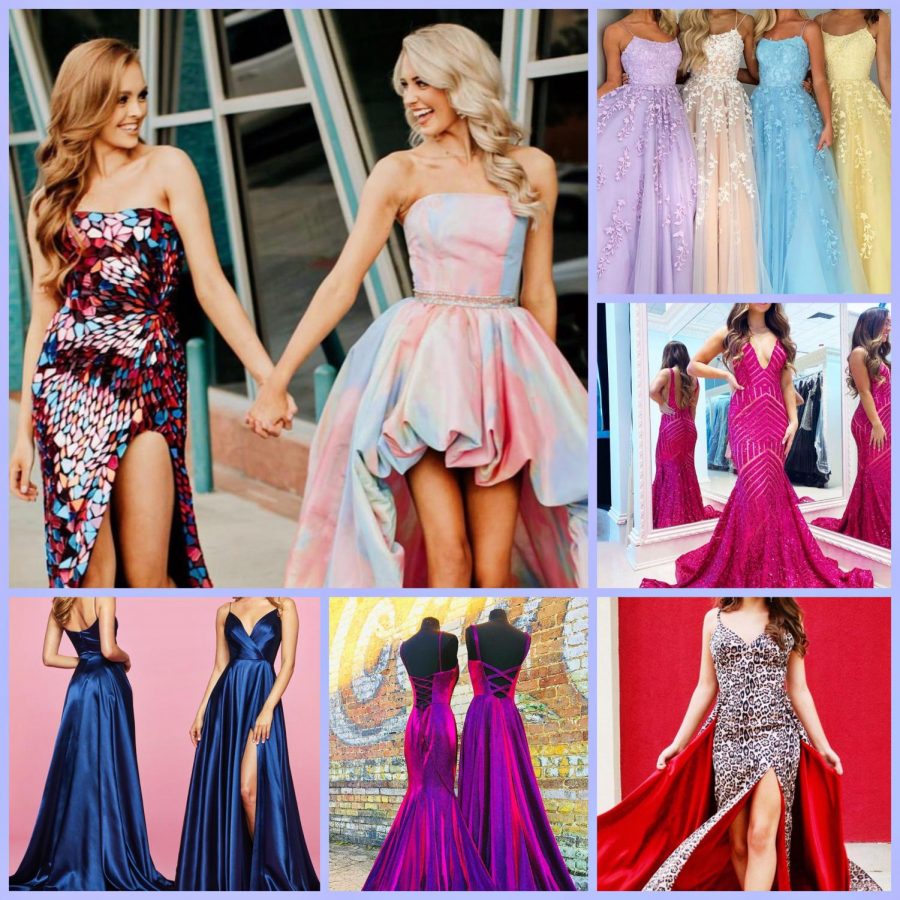 Shimmer, shine and sequins can catch the eyes of any person admiring a prom dress. As society continues to develop different fashion trends, styles and aesthetics, the prom dress community is growing astonishingly. From brands ranging from Sherri Hill to Jovani, this is what to expect when shopping for the 2020 prom dress season.
One of the most popular designers to date, Sherri Hill, has once again incorporated several colors and designs into their pieces this season. Popular from last season, Sherri Hill has created a series of dresses this year including style no. 53732, style no. 53371, style no. 53345 and other similar styles, highlighting a range of pastel and rich colors with a flowy, lacey design. The lace design, made of fine vine leaf embroidery, typically heavily covers a specific area of the dress before fading out to a more spread out pattern. 
Sherri Hill is also well known for their exceptional beadwork on dresses. This can be highlighted through beautiful dresses including style no. 53784, style no. 53608 that also incorporates a feathered bottom, style no. 53445 and style no. 52455. 
Another popular aspect of the 2020 prom season that started to make a more apparent debut last season is fringe. Whether it is beaded or not, some of Sherri Hill's fringe-styled gowns including style no. 53160, style no. 53801 and style no. 53876 are sure to please any fringe lover. One of the more popular designs this year can be recognized as one of Sherri Hill's more featured 2020 dress. This design, most commonly found on either a white or black fabric, can be resembled closely to a mirror ball or shattered glass appeal. These dresses include sewed on metallic embellishments to achieve the full effect. This collection is featured on several dresses including style no. 53474, style no. 53467, style no. 53473 and style no. 53466.
Another popular designer, Ellie Wilde, introduced their 2020 spring prom collection "Written by the Wilde Ones." Ellie Wilde's main prom highlight can be recognized as their multichrome, color-shifting glittery gowns. This can be best demonstrated through style no. EW120107, style no. EW120109 and style no. EW120037. Besides the incredible color and shine of these gowns, Ellie Wilde also has several styles including very popular silk fabric as exemplified on style no. EW120061 and style no. EW120033.
Jovani, another well recognized designer, is commonly found in prom dress shops. This year, Jovani has incorporated several styles into its 2020 spring collection including shimmering sequins, lacey embellishments and flowy dress bottoms. As a popular pattern from Jovani, style no. 4060 as a long-sleeved version and style no. 59762 with its plunging neckline and sides, show off a unique pattern of sheer mesh and embellished sequins. Jovani also incorporates several extravagant plunging necklines into similar designs such as style no. 63437, style no. 60283 and style no. 1237. 
Across the board, popular trends in prom dress designers include, but are not limited to, fringe, vine-like lace, silk, mirrorball-like gems and cheetah print. As the comeback of mix-matching animal prints and tie-dye patterns into everyday apparel, designers have also taken notice and incorporated them into spring 2020 collections.
On the rise this season are prom jumpsuits. When wanting to find the perfect look for prom, a lot of prom-goers tend to not want to wear a gown of sorts. Instead, several designers have created jumpsuit looks for anyone who would rather rock a one-piece rather than a gown.
Other popular prom dress designers can include Favianna New York, Blush, Mori Lee Prom and upcoming designer Alishia Hill. Recognizable brands can also include Mac Duggal, Rachel Allan, LA Femme, Alyce Paris and Jasz Couture. 
No matter the designer, price, pattern or color, the perfect prom dress should be based upon the prom dress shopper's personality and personal style. Although many factors play a role in choosing a dress, the most important factor should be the reaction the prom dress shopper has while trying on the dress. When shopping for the perfect gown this 2020 season, people should keep an eye out for these popular spring trends and brands.