Season celebrated, achievement recognized at annual band banquet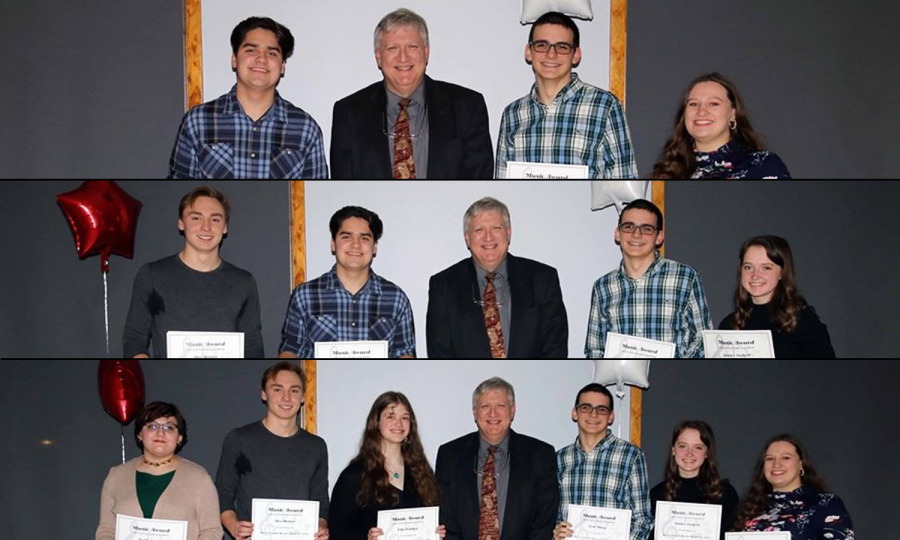 Cole Skuse, Business Manager/News Editor/Copy Editor
February 28, 2020
Though the marching band season has been completed since the end of this year's football season, the families of marching band members gathered at the Conway Volunteer Fire Hall on Feb. 22 to celebrate the season that had been completed this year. This was the first time this event was held at the location. Over 180 people were in attendance. 
Doors to the event opened at 5:00 that evening with the banquet starting at 5:30 p.m. The venue was decorated with red and white in the form of balloons and table decorations, which were decorated with the year's half-time show them, "Panic! At the Disco."
The event started with a brief speech from Band Booster president Cari Skuse, who welcomed all of those in attendance for coming and thanking all those who made the season possible, from the members to the parents. Also in attendance at the banquet were school board members Emily Evans, Sharon Geibel, Gerald Inman III, Lynn Patsiga, Lorilee Pail and Lesilee Rizzi, along with high school principal William Deal and high school vice principal Steven Mott. 
Following the welcome, those in attendance were invited to eat dinner, which consisted of pasta, chicken, beef, green beans, mashed potatoes, salad and more. J&J Enterprises was responsible for catering to this portion of the event. Attendees also had a variety of options for drinks, which were set up on a different table.
Following the dinner, band director Robert James gave a short speech about the season and also gave out the awards for all of the marching band. Every person who participated was called up and received a gold bar pin, which signified that they completed a year of marching band. For some, this was their first bar while it was the fifth for others. Those who were in tenth grade or higher also received a band letter, which they will put on their letterman jackets. 
Next up, James gave out certificates to all of those who participated in the various band festivals that have occurred so far. For Honors Band, this was seniors Cole Skuse and Mason Hedge and juniors Marissa Lammie, Ashley Imhoff and Alex Bearer. For the District Band,  it was Skuse, Hedge and Lammie. For County Band, it was seniors Skuse and Ella Walden, Lammie, Bearer, Imhoff and sophomore Faith Tooch. Junior Kameron Skrobacz was recognized for doing District Jazz Band and freshmen Abagail Ketterer and Brigette Richard for Junior District Band.
After the awards were presented, all of the guests were invited to partake in an ice cream sundae bar, which featured brownies and ice cream, along with some additional topics. Everybody was also invited to watch the band video, which senior Steven Buerkle made. The video featured pictures from the year, along with the "guess the senior baby" picture section. Following the video, some people took pictures at the photo booth, which had many different props for people to use, while others danced or hung out with friends.
As the marching band only has two more parades left on Memorial Day, the year is drawing to a close for another one to begin next year, which will feature a different band and a different show.