Seasons canceled… for the year
Breaking down effects COVID-19 had on sports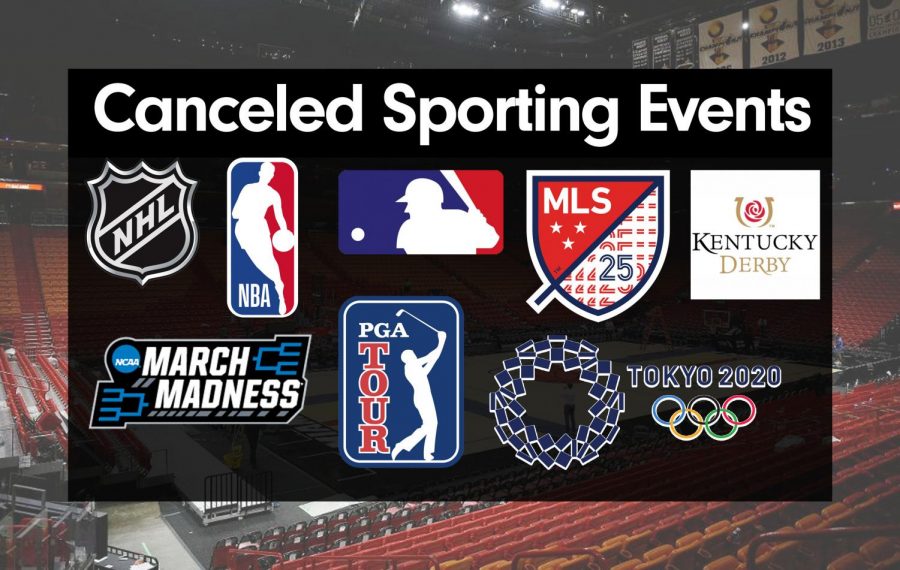 The coronavirus pandemic is affecting millions of people across the world in many ways. In the United States, businesses, schools and other public places have shut down due to social distancing measures being taken, in an attempt to slow the spread of the virus and flatten the curve, as experts are saying. The effects social distancing are having on people is enormous. Some adults are able to work from home and students across the country are getting school work online, but other than that, there is not much to do. For millions of people, sports are something they turn to as a form of entertainment. If you really think about it, sports play an enormous role in the daily lives of almost everyone. Unfortunately, due to the severity of the coronarvius and its ability to spread quickly, sports have essentially been canceled for the foreseeable future.
Professional athletes stuck at home
If you were to turn on ESPN or any other sports network, there wouldn't be much on TV. Currently, some of the world's biggest sport leagues and famous events have been postponed until further notice.
The first major event in the professional sports world that sent all other sports down a similar path occurred in the NBA. On March 11, the Utah Jazz were supposed to play the Oklahoma City Thunder, but the game was canceled moments before tip-off when it was discovered that a Jazz player, Rudy Gobert, had tested positive for the coronavirus. 
This sent the sports world into a frenzy that would only get worse. NBA teams who recently played the Jazz had to be tested for COVID-19 and many of the staff and players began self-quarantining. Other games set for March 11 were also canceled, as the NBA went into a very abrupt suspension of its season. 
"I was super disappointed when they decided to postpone the season. I keep hearing they are going to try and keep the season alive, but I feel like it's going to have a tragic end just like our senior year," senior Tyler Borgman said.
The following day, other major sports leagues followed in the footsteps of the NBA and decided to postpone their seasons as well. The NHL originally postponed the regular season until further notice, but like the NBA, it's looking very uncertain that either league will even finish their remaining regular season games. The MLB, which had recently begun spring training, canceled the remaining preliminary games and pushed back the start date of opening day. Other leagues and events that have been canceled include Major League Soccer, the PGA Tour, the Masters, the Daytona 500 and the Kentucky Derby. 
The NFL, whose season isn't set to begin until Sept. 10, has been affected by the virus. They canceled the live portion of this year's draft, which was supposed to be held in Las Vegas. Team facilities were not open during the draft, which occured on April 23 to April 25. The draft still aired on TV, but it was done completely virtual. 
Even the 2020 Olympics, which was set to begin in Tokyo on July 24, was postponed until next summer. This is the first time the Olympics have ever been moved to a new date. In the past, they have been canceled due to the world wars, but never before have they been pushed back. 
The unfortunate part with professional sports being canceled is that leagues like the NBA and NHL were just getting to the playoffs. The race to make it was heating up, teams were getting hot and everything was getting exciting. Now, it's uncertain how long professional sports will have to be pushed back and if the NBA and NHL will even be able to finish. Even when players can start practicing again, it will most likely be months before fans can attend a professional sporting event again.
To compensate, networks have been broadcasting old Super Bowls, Stanley Cup games and other championships as well as finding creative ways to keep sports fans entertained. For example, NASCAR is now doing virtual races. While these are all good ways to pass time, fans around the world are missing live professional sports. 
 March Madness highlights cancellations at the collegiate level
March 12 didn't just disrupt the professional sports world, but the college level as well. On that day, the NCAA announced that all remaining winter sports events and all spring sports would be canceled for the remainder of the year. 
This news came as a shock to sports fans everywhere especially with the March Madness Men's Basketball Tournament gearing up to begin its first games on March 17. The tournament has been highly anticipated all year long. The tournament features 68 of the best Division I basketball teams in the country, including Duquesne University who qualified this year. Part of the fun is filling out brackets to predict what school will win the tournament. In fact, nearly 70 million brackets are filled out each year and the fact that it will not be happening this year is a massive disappointment for sports fans. 
"I was sad to hear it was cancelled because yet another yearly tradition was broken due to this virus," senior Noah Spanos said.
While the March Madness tournament is highly anticipated, players at least had the opportunity to play their seasons and for seniors, play their last games of their career. This was not the case for athletes who play spring sports such as tennis, baseball, softball and track and field. 
The cancelations of their seasons have major impacts on those athletes hoping to make it to the professional level. Many were relying on having a good senior season in order to get noticed by professional leagues. Even the seniors who are not aspiring to play at the professional level still put in plenty of hard work, time and dedication to their sport throughout college and do not want to see it end before it ever really began. 
On March 30, the NCAA granted all spring-sport athletes an additional year of eligibility and an additional season of competition to any athlete who wants or needs to play another year. This is good news for some athletes who needed a good performance to have a shot at the pros, but for many athletes, especially those who are not going to school on athletic scholarships, the extra year of eligibility is not cost-effective for them, which means they will simply graduate and start working. 
The virus that is affecting the entire world is also affecting millions of people in countless ways. For the college athletes, it has affected their chance to play their last season and their chance to make it to the professionals and for the fans, it took away one of the most anticipated sporting events of the year. 
 Freedom spring sports stopped before they could begin
Practices for spring sports always start very early. Some athletes at Freedom practice baseball and softball in the gym or condition for track in the cold of winter to get prepared for their seasons. This year however, those seasons were barely able to begin. 
On March 12, Freedom students attended school for the last time without even knowing it. On that same day, the baseball team played a scrimmage at Neshannock, the softball team hosted Carlynton for a scrimmage at home and the track and field team had a scrimmage against Ambridge. Little did all of these athletes know that these scrimmages would be the only chance they would get to play the sport they love for this season and for seniors, the last time ever. 
As of April 9, all Pennsylvania schools are closed for the remainder of the academic year. This also includes all facilities and school events. While other school activities like prom and graduation may still occur later in the summer, sports will not be able to. 
This news is especially disappointing for seniors who participate in any of these sports as this was supposed to be their last season to compete with their friends on the field or on the track. 
"I was pretty excited for this year. I really thought that it would be a fun season and we'd make it far. I hope that they can find a way to have a couple games, that's all I want. I want to play my last baseball game during my senior year," senior Jacob Bauman said. 
There are other athletes at Freedom whose seasons have been affected by the COVID-19 virus. Gymnasts and competitive dancers who compete all year on their routines and dances also had their seasons cut short. For some, it was their last chance to ever compete. 
"I attended my first dance competition on Feb. 22. Little did I know that it was going to be the last time I got to perform on stage with my other senior friends. We had been working on our routines for countless hours since September, with all-day practices and constant rehearsals. It's a shame that I might never get to perform what I love doing ever again, especially since I have been dancing since I was three," senior Madison Snavely said.
When practices and training begins weeks or months in advance, it comes as a shock to be unable to put that work into an actual game, meet or competition. Ending the school year without sports was something that no one at Freedom could have expected. It's especially heartbreaking for the seniors who will never get to have their senior night. A lot of talented athletes will be graduating from Freedom this year and it's a shame that the spring programs did not get to have them compete one last time. 
It is tough for the seniors who will not be able to step foot on the field again, lace up their cleats, put on their dance costumes or set up their blocks, but at least they still have the memories that they already made playing the sport they love.