Senior night at Bulldog Stadium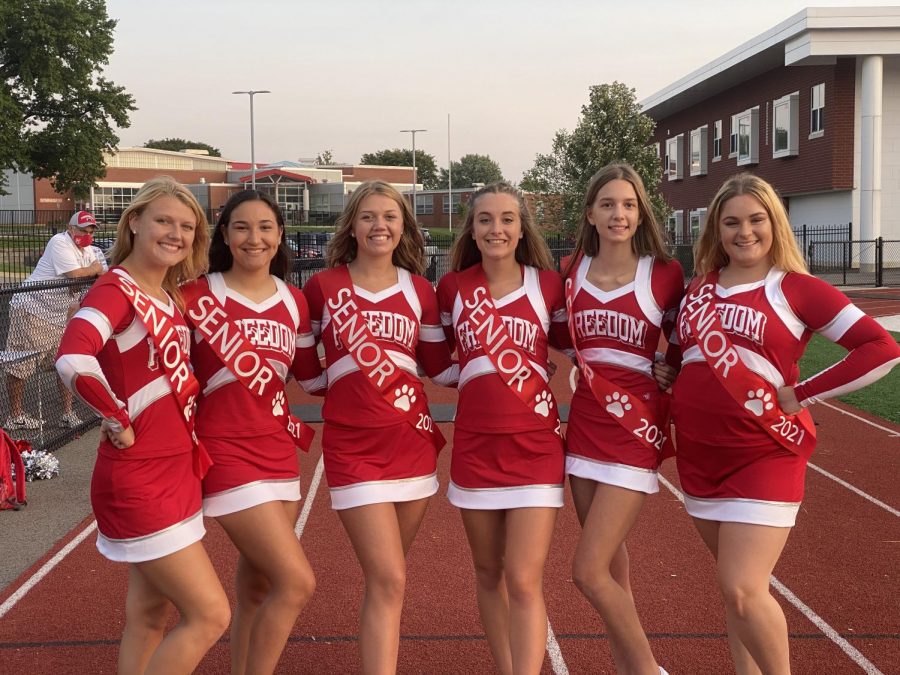 On Sep. 10, seniors in fall sports and band members participated in a socially distanced Senior Night at Bulldog Stadium. Instead of waiting until the end of their respective seasons, all fall sports plus band came together for one collective celebration. This is a first for Freedom. 
Even though this year was not as normal as Freedom Area School District had hoped, they still put on a grand celebration for the graduating seniors in each of these activities:
GIRLS SOCCER:
Karissa Mercier and Jessica Scheel
BOYS SOCCER:
Colt Heasley, Keith Pawlowski, Garrett Paxton and Michael Castaneda-Sanchez.
BAND:
Alexander Bearer, Allyson Charlovich, Josiah Dubovi, Mark Fessides, Gianni Gagliardi, Ashley Imhoff, Matthew Keller, Jessa Kester, Marissa Lammie, Mercedes Lavrusky, Alexandra Mizzelle, Sydney Palakovich, Keith Pawlowski, Haley Scheck, Jessica Scheel, Kameron Skrobacz, Alexis Surenda and Francis "Nick" Tavern.
GOLF:
Matthew Castelli and Francis "Nick" Tavern.
VOLLEYBALL: 
Angel Clinkscales, Jessa Kester, Madison Lewis, Erin Meyer, Emily Ostrowski and Alexis Surenda.
CROSS COUNTRY: 
Bailey Roberts 
HOCKEY:
Marc Evans, Matthew Keller and Jesse Nelson. 
FOOTBALL:
Cole Beck, Brett Boyd, Tyrique Campbell, Wyatt Davis, Jalen Foster, Jimmy Happ, David Martsoft, Garrett Paxton, Brandon Pratte, Jacob Simmons, Ashton Spiegel, Paul Thompson, Reiker Welling and James Wingrove. 
CHEER:
Johnna Adams, Stephania Badamo, Courtney Grunnagle, Lauren Lizzi, Shannon Weaver and Sarah Yeck.
Senior Night is for showing the accomplishments of the seniors during their four years at Freedom Area High School. It gives them a chance to shine and bask in the glory in front of their family and friends. They also get to show off their future goals such as where they plan to go to college and what they plan to major in. Many seniors, such as Francis "Nick" Tavern, have dreamed of senior night. 
"It was something that I've always experienced second hand from other people, you know, standing there with the band and watching them march, so it was real nice to do it this year." Tavern stated to Freedom High School Press reporters. 
This year has been extremely different in every aspect of life. The world was shut down, and schools closed last March. Some schools have reopened fully, some with half-weeks, or some like Freedom, not at all. Freedom Area Schools are doing all online this semester and many families were not sure there would even be a senior night. 
Karissa Mercier tells us about her senior year at home, "It sucks, but I hope we can go back to school next nine weeks, and I hope we don't have to stay online forever." She also talks about her gratitude towards the school district for still celebrating the seniors despite these uncertain times. "My favorite part about tonight was that they still did something for us because of everything going on. It's better than not having anything at all for the seniors." 
Though this may not have been the ideal year for seniors, they were still able to have their senior night and be honored for all their accomplishments.