Shooting for greatness
Players set goals for new season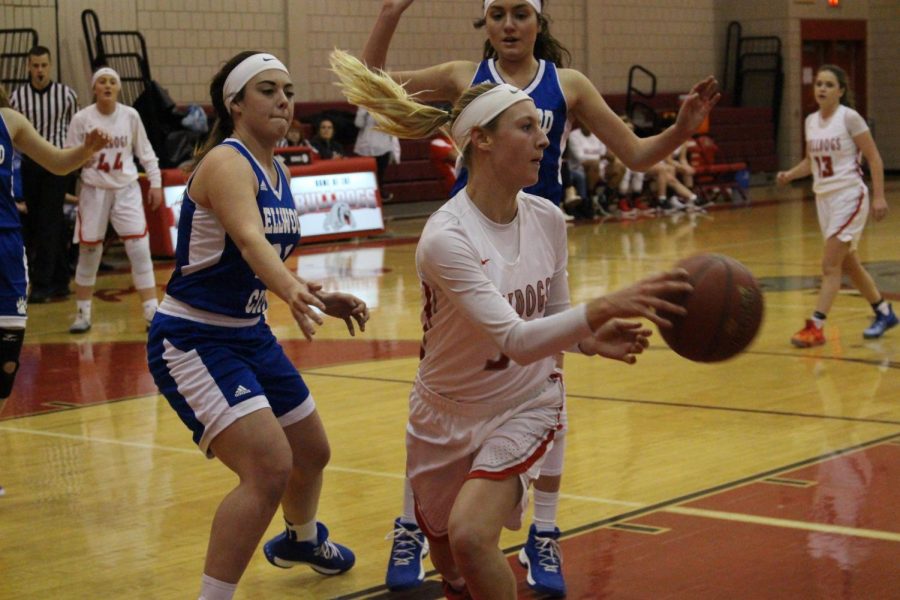 As the leaves begin to fall off the trees and crumble on the ground, fall melts away as winter approaches. Outdoor sports begin to take a break as indoor sports come into play. The once quiet basketball court squeaks as sneakers aggressively dash around the court toward the hoop. The Girls basketball team lifts their heads high as a new, fresh season begins.
This upcoming season for the Girls basketball team will demonstrate all of the hard work they have put in through their practices and dedication. They have several goals for themselves this year, whether they are personal or as an entire team.
"Some of my personal goals for the season are to beat my three point record of 9 and make it 10 to not be tied with my brother, but to beat him, which is an inside joke I have with my brother," senior Taylor Greene says, "I also hope that our team can have some winning streaks and that we can all work together as a team to win."
Other players have set personal goals too, as well as other goals for the team.
"Some personal goals of mine is just to become a better player overall and to push myself to do my best," freshman Jessica Majors says, "Some team goals would include having a winning season and just to become closer as the season moves along."
The team also looks forward to other aspects of the season, as well as leadership roles.
"I am looking forward to my senior year of basketball to improve my game and to be a leader of all the underclassmen," Greene said.
Other aspects the players of the upcoming season look forward to is making new friendships and improving old bonds.
"The thing I look forward to the most this season would be to gain new friendships, become a better teammate on and off the court and to have fun," Majors said.
Throughout all of this, the team plans on having a successful season ahead of them.
"I think this upcoming season is going to go really well because there is a lot of talent between all the players, and I believe we will go far this season," Majors said.
The team is said to have a lot of talent this year, as well as several new freshmen to help the team become successful in the upcoming season.
"I believe that [this] season will be the best yet. We are getting some talented players from the freshman class that will help us win games," Greene said.
Despite how the season goes, or the goals the players have in mind, the team still appreciates the game and thoroughly enjoys basketball.
"The thing I love the most about basketball is just playing with some of my best friends and making a lot of memories," Majors said.
With the upcoming season approaching, the games will be like no other. Fans, faculty and students alike should not miss the girls basketball season. The girls plan on making this season successful with their many goals in mind.