Sinkin' 3s
Taylor Greene breaks school record assisting her team this season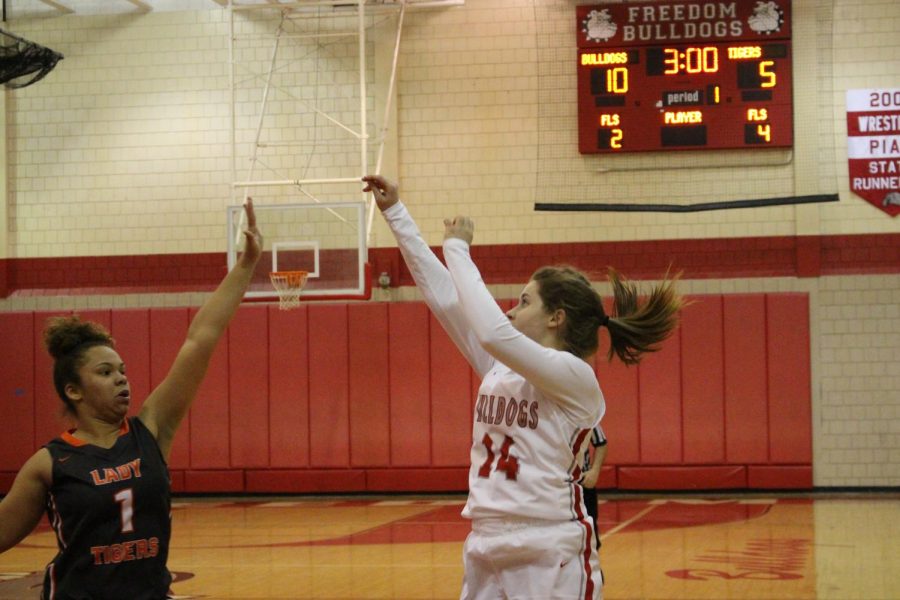 The C.J. Betters Tournament went well for the girls basketball team.
Junior Taylor Greene broke Freedom's record for most three-pointers scored in one game.
On Dec. 30 at the Community College of Beaver County dome during a face off against Aliquippa, Greene scored nine shots from behind the three-point arc. Coupled with other baskets, she made a total of 39 points during the game.
"I wanted to get 10 three pointers but the last shot just wasn't falling," Greene said.
She tied with her brother for the most three point shots in a single game. To break the record for the girls team, she had to beat Alumni  Madison Lewis' score of eight three-pointers.
"I'm always outside with either my dad or brother just continuing to keep my shot flowing," Greene said.
During the off season Greene never sleeps; she is also a participant on an AAU team, which she said is a good challenge.
"A future goal for me this season and my senior year is to get a scholarship to a good school for basketball," Greene said.
Greene had many goals for her junior year, and she's already achieved one of them. This season Greene is hoping to keep up her average of 15 points per game, the national average being only five.
Some of the scores from the past games have been 34-77 against Laurel on Dec. 14, and 50-65 against Beaver Falls on Dec. 18. Both games were played well, even if the end result was a loss.
The Lady Bulldogs have given it their all so far, this accomplishment could raise the spirits even more. They had a close game against Laurel with a score of 35-41 on Jan. 18.
The team has practice everyday, other than gameplay. This dedication shows that a win could be within reach.
Every team has their strengths and weaknesses, this is also true for girls basketball.
"We work well together and help each other when needed, but we don't challenge ourselves. We can be a great team we just have to believe we can," Captain Senior Tori Mitchell said.
With the end of the season fastly approaching, but there's always room for improvement. With their many practices they've learned their plays and will execute them with precision. In upcoming games the girls are determined to win.
Freshmen Karissa Mercier plays strong offense and defense for the team. This is her first year on Varsity, but she's holding her own on the court.   
With their sights set on the playoffs, the team will have to work hard to ensure they can get there, but with support from their captain and each other, anything is possible, including the many victories that are sure to come.