Skating for playoffs: Blackhawk hockey players work towards playoffs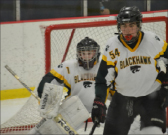 Playoffs are coming up, and the Blackhawk Hockey team is still working to make it. Currently holding the third spot in the playoff race they are looking to hold onto their position in the standings.
In their home matchup against Peter's Township on Jan. 15, the Cougars won by a score of 3-2. Junior Alex Lundy led the Cougars by scoring two of their three goals.
"It's actually kind of embarrassing when they say 'his second or his third of the season,' but it felt really good to get that first one," Lundy said. "It really got us into the game because we were lagging behind and whenever we put that one in it seemed to boost us up a lot."
This game was also Junior Stuart Skogsholm's first game back from a dislocated shoulder. After spending a few weeks on the benches Skogsholm was excited to be back on the ice.
"It felt really good to be back because it's kind of tough to be on the bench and watching everyone else go knowing I can't be in," Skogsholm said. "It's a little tough coming back. It's been a little slower and a bit out of shape, but it's good to get back and get into the swing of things."
Despite only five goals being scored, there wasn't a shortage of action in this game as both teams had double digit penalty minutes for the game. The Cougars were hit especially hard as they had two players receive misconduct penalties. The first misconduct penalty put Blackhawk down a player for 10 minutes. The second was a game misconduct ejecting a Blackhawk player from the rest of the game.
"It feels really good cause that's kinda what defense lives for," Skogsholm said.
The fact that Peter's Township scored both of their goals off of a seven minute powerplay opportunity gives Blackhawk some confidence in their abilities going forward.
"Knowing that we beat them and knowing that it took a seven minute penalty for them to score their two goals feels really good," Lundy said.
On Jan. 19 Blackhawk had an away game with Meadville, who is also in the middle of the standings. Blackhawk left Meadville with a 6-3 victory over another contender for a playoff spot. After getting down 3-1 after two periods Blackhawk used their third period to make a come-back and to score five goals and earn themselves the victory.
Of the Freedom player's Lundy was the only one to get on the score sheet by assisting an empty net goal in the final minutes of the game. The significance of this win is large because this win put
Blackhawk into third place of the division. With this win Blackhawk now controls their own destiny as they are a few important wins away from clinching a playoff spot.
Blackhawk's next game was a home matchup against Indiana, on Jan. 22, who is one of the top teams in the league. When all was said and done, the Cougars beat the higher ranked Indians by a final score of 7-1. Lundy scored two goals for the Cougars in their win over the Indiana team that currently sits above them in the standings. This win brings some extra significance to the team as they have now taken two of two from the Little Indians.
With their performances in the month of January the Cougars have put themselves into a good position to fight for an opportunity to play in the playoffs.