Spikes to fill and goals to meet
Cross Country team works to exceed expectations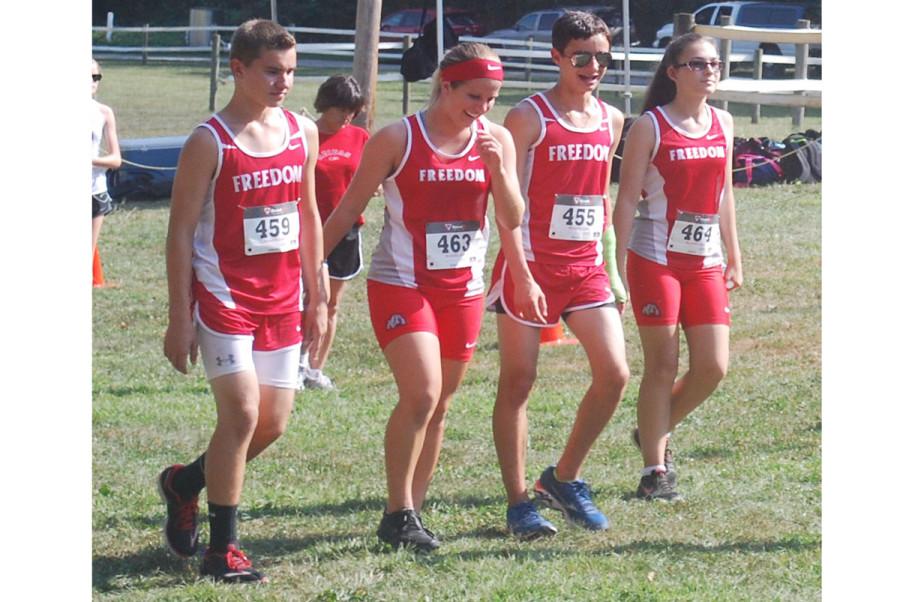 The Cross Country team has new members looking to "fill the spikes" left from last year using tips and tricks to push themselves to reach their goals.
Mr. Ed Shephard, coach of the Varsity team, is optimistic about the season ahead this year.
"A key runner for the boys would be Jarrett Boyd, and for the girls, Myla Sharpless," Shephard said.
Junior Boyd finished in seventh place at the first WPIAL qualifying meet against West Allegheny and Beaver High School. It was held at Brady's Run Park on Sept. 8. He sprinted across the finish line with a time of 19:06, with Sophomore Austin Schroeder not far behind finishing at 21:46.
"To get better times, you really want to find someone that's better than you. I always pick someone out. I don't know who it is, and I normally just try and chase him and generally it gives me pretty consistent times," Boyd said.
Sophomore Myla Sharpless placed in fifth at the same meet. The course was a 5k (3.1 miles) race across terrain ranging from grass to gravel to a board crossing a stream.
"When I start breathing really hard, I slow down my breathing, and try and take deeper breaths," Sophomore Jordan Hartle said.
Times from the meets are met with a goal in mind from the beginning for many runners.
"The only goal I have is to not be last,"Hartle said.
"I have a couple runners that I think have a shot to get to states individually. The other part of the goal was to get some younger runners recruited, to just try and increase the numbers. The ninth and tenth graders are more involved because other grades know about cross country too late," Shephard said.
He has plans to reach these goals through one thing: practice.
"Consistent practice is the biggest thing. Consistency in training will bring improvement in the meets," Shephard said.
Consistent training is needed in any sport, and many runners take this challenge and accept it, with busy practice schedules to gain more experience.
"We practice Monday through Fridays. We meet here [Freedom Area High School] and sometimes we meet on Saturdays. On Sundays, it's usually a day I schedule for them to take off and get out there on their own. That's been the key. If you consistently practice, you will improve," Shephard said.
"I run every single day. Every two weeks or so I'll take the day off, but I normally run every day," Boyd said.
He placed tenth on Sept. 12 at Schenley Park. He also placed on Sept. 15.
"I normally run every day in some way, whether it's soccer or cross country practice," Hartle said. She is involved in cross country, soccer and long distance for track and field.