Start a chain reaction
Refresher of Rachel's Challenge program looks to promote kindness, compassion and positivity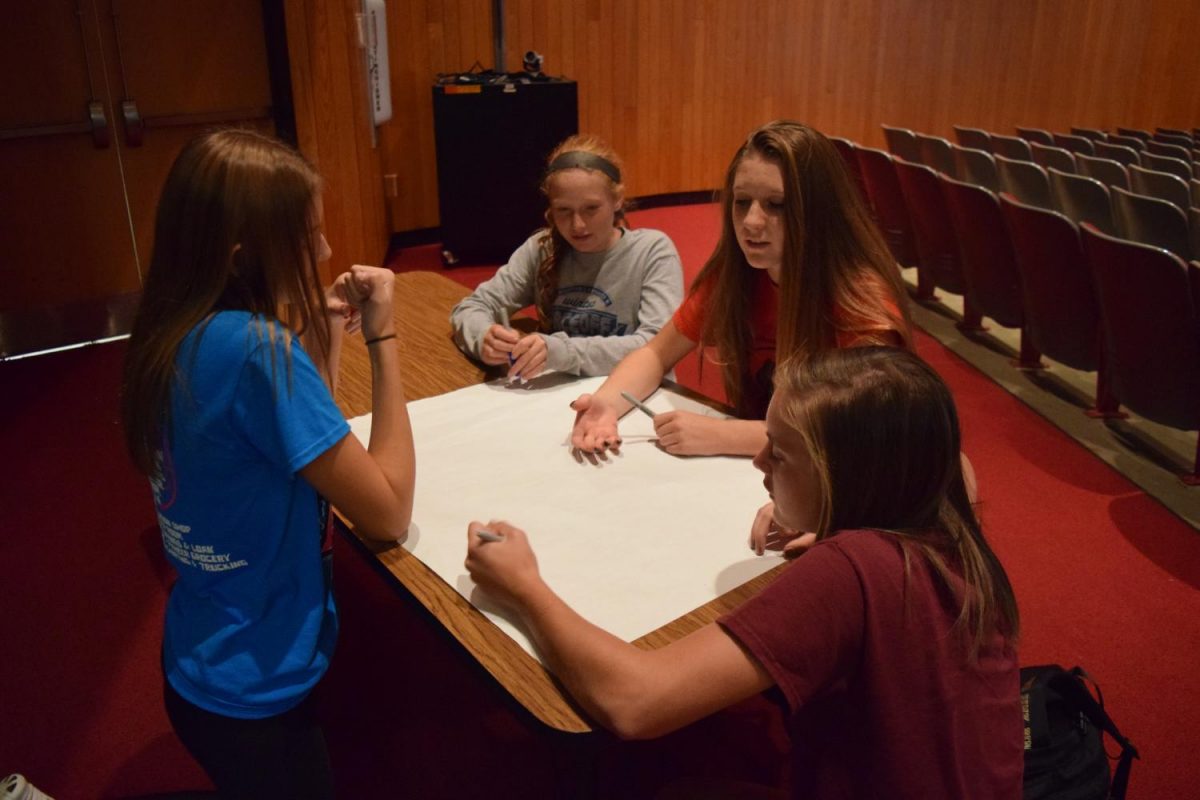 Rachel's Challenge is back for a refresher. The Freedom Area School District held assemblies on Sept. 11 and 12 to remind students to spread kindness and compassion.
In April of 1999, Rachel Scott, a high school student, lost her life in the Columbine School shooting. In wake of her death, an international program called "Rachel's Challenge," was started, looking to spread compassion that Scott had sought after during her life.
Rachel's Challenge was introduced in the fall of 2013. During an in-service day, the staff of FASD was given a training on this concept in Aug. of 2013. It was introduced to the students when the new school year had begun.
Both middle school and high school assemblies were led by Rachel's Challenge Presenter Patrick Nixon. Nixon enjoys telling Rachel's story to schools around the country because it impacts people in a positive way.
"I would like to believe the assembly made a positive impact on every student. The presentations make you reflect on your life and how to be a better person and to think about how we treat others. If this presentation impacted anything on the students, I hope it left them with a sense of purpose, to know other people go through many different obstacles," High School Guidance Counselor Ms. Rita Kaplin said.
The two high school assemblies were split up into two groups. One group were the freshmen and sophomores, while the other group was the juniors and seniors. These two groups were given two different challenges. The challenge for freshmen and sophomores was to look for the best in others, dream big, choose positive influences, speak with kindness and start your own chain reaction. The challenge for juniors and seniors was to dream big and believe in yourself, be kind to others, practice positive gossip, show appreciation to those you love and be the answer.
On Sept. 11, there was an assembly that was held for members of the community. This event was for anyone who wanted to learn or refresh themselves on the concept of Rachel's Challenge.
"Those who were involved still talk to this day about the impact the program made of them," Kaplin said.
The goal of Rachel's Challenge is to spread kindness and compassion around the school. The Rachel's Challenge mission statement is, "awakening individual transformation and promoting safer, more connected schools."
Another addition to the Rachel's Challenge program is the continuation of The Friends of Rachel (FOR) Club. FOR Club helps to create new ideas to spread kindness throughout the school district. Each club and extracurricular activity had a few representatives elected to join FOR Club.
"What inspired me to join was when we were first introduced in 5th grade. I want to help stop all of this bullying and negativity because I know what people are going through when this stuff happens," freshman Alexis Surenda said.
In order to promote Rachel's Challenge, the high school is starting a compliment box. Students are encouraged to write compliments and place them in the box. Each afternoon, one anonymous compliment will be drawn from the box to be read on The Bulldog Beat.
"We are all responsible for sharing the goals of this program…It's not really a club, but a concept on how to treat people with dignity and respect every day," Kaplin said.