Starting off strong
Girls basketball team wins their first game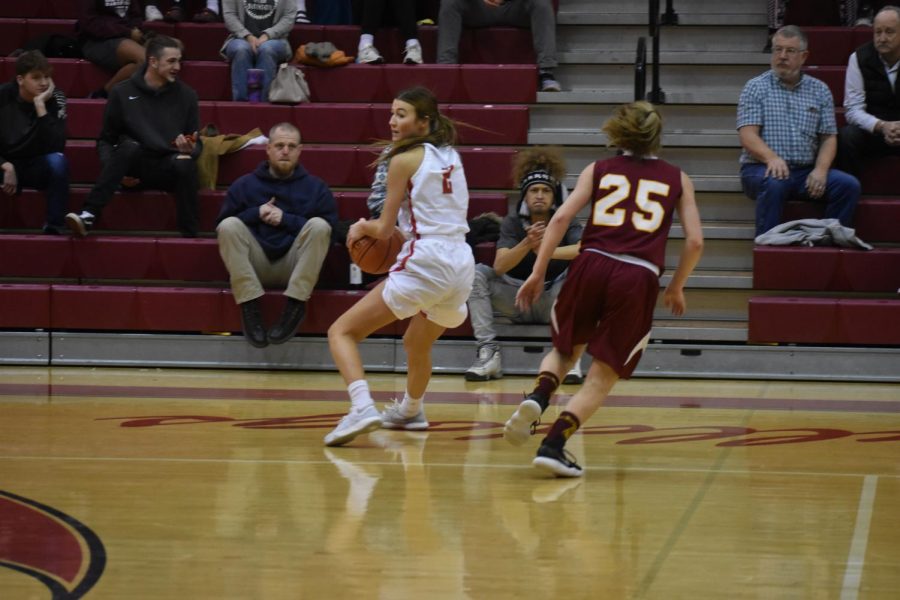 Dribbling into the start of the season, the girls basketball team won their first game against New Brighton 58-18 on Dec. 11. Even with over six fouls in the first quarter, the Lady Bulldogs kept a lead the whole game. Keeping up the aggressive offense and defense, the team is already on the right track to reaching the goals set for the season.
"I hope that our team can win some section games and make it to playoffs," captain Taylor Greene said.
She aspires to lead the team to victory before graduating.
"Being a senior is a big change knowing that I won't be playing basketball for Freedom next year," Greene said.
Other seniors feel sentimental as well. The younger players will have some big shoes to fill, come next season.
"We need to pass the ball more and not be selfish. We also need to practice harder and not mess around because it reflects in the games. I'm planning on scoring points for my team that will be beneficial to help win games," Greene said.
The team has potential as long as they work on their weak points.
"Playing in high school is a lot different than playing in middle school because the players are bigger, faster, and tougher, but coming from a very well coached team it was an easy transition to begin playing with the upperclassman," freshman Jessica Majors said.
It's not uncommon for freshmen players to have a hard adjustment period, so it's relieving that the team is clicking this year with the new players.
The new players have had the chance to play on the varsity team, subbing in for the upperclassmen. Freshman Grace White scored two three-point shots during their game against New Brighton.
"The coaches and players have made it an easy transition for all the freshman players and playing with all the upperclassman has been a joy," Majors said.
She has gotten the opportunity to prove what she's made of and she's taking it.
"My goal as a freshman player is to contribute to my team as much as possible on and off the court," Majors said.
Along with the other freshmen players she will continue to make an impact during games and support her team as best she can.
At the game against Ellwood on Dec. 13, the girls lost 35-48. The team faced many challenges, such as players being fouled out of the game for periods of time.
The girls have been practicing relentlessly in preparation for tough opponents. The hard work will surely be reflected in their success.