Stein leads charge for nationwide recount
Suspicions drive 2016 presidential election into a recount after voter fraud, machine issue claims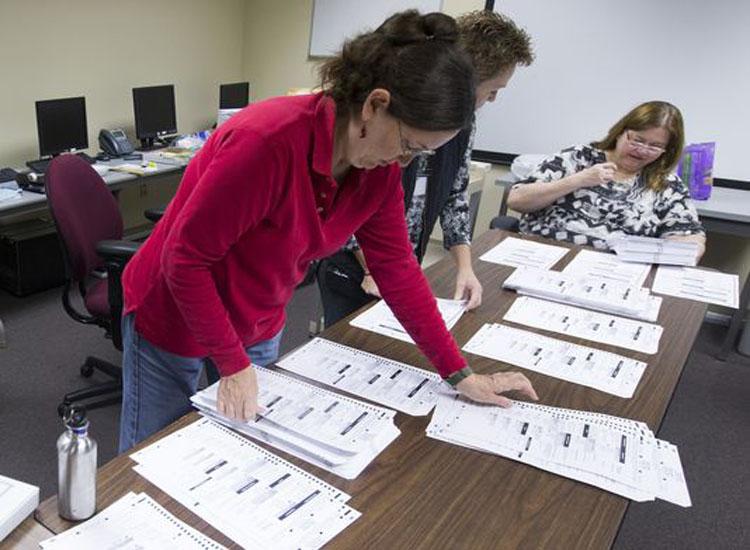 Recently, several states have begun a recount for the presidential election. The main incentive for this recount is to quell the suspicions of the original results. These results have been hit by accusations of being tampered with and rigged in President-elect Donald Trump's favor.
Poorvi Vora, a professor at George Washington University, said that because of vote-scanning machinery having the potential to be infected with malware that changes the vote records, a manual count is the only surefire way to know if there was any meddling or not.
In addition to this reasoning, it could be seen as an opportunity to build support for a movement that will push for removing the constitutional requirement of an Electoral College. The group National Popular Vote hopes for this, or at least a change, to occur with the college so that the nation's popular vote is better represented.
Jill Stein, the Green Party candidate, has been the major leader of the 2016 recount. Stein has made an effort to raise between $5 million to $6 million dollars to fund recounts in Wisconsin, Pennsylvania and Michigan. The Clinton campaign officially joined her and the Green Party's work along the way on Nov. 26.
"Because we had not uncovered any actionable evidence of hacking or outside attempts to alter the voting technology, we had not planned to exercise the option ourselves, but now that a recount has been initiated in Wisconsin, we intend to participate in order to ensure the process proceeds in a manner that is fair to all sides," Marc Elias, the general counsel for the Hillary Clinton campaign, wrote on Medium.com.
Starting on Dec. 1, Wisconsin was the first state to begin their manual recount of their 3 million ballots with their completion deadline being Dec. 13.
On Dec. 2, a Trump super PAC filed a federal lawsuit to stop Wisconsin's recount process, stating that it went against the Supreme Court's Equal Protection clause. James Peterson, a U.S. district judge, rejected the stop and let the recount proceed. By Dec. 5, Clinton had a net gain of 58 votes, and Trump had a net gain of 84 votes.
Wisconsin's final result had Trump winning by over 22,000 votes.
On Nov. 28, Stein filed for the recount in Pennsylvania, and on Dec. 2, Trump and the Republican Party requested the court to dismiss it, as they had done with Wisconsin as well. They argued that the state doesn't permit a court-ordered recount, but this was resolved the next day. On Dec. 5, Green Party lawyers filed a lawsuit to force Pennsylvania to perform their recount. On the Dec. 7, the recount was halted, having to wait until Dec. 9 for a federal court hearing, which ultimately turned the recount down.
"Most importantly, there is no credible evidence that any `hack' occurred, and compelling evidence that Pennsylvania's voting system was not in any way compromised," U.S. District Judge Paul Diamond wrote in his rejection of the Pennsylvania recount.
Stein then filed for the recount in Michigan on Nov. 30, paying the necessary fee of $973,250. Just as they had with Wisconsin and Pennsylvania, the Trump campaign challenged this recount. Their argument, which stated that the Michigan recount couldn't be completed on time, ended up delaying it further to Dec. 6. On Dec. 7, U.S. District Judge Mark Goldsmith cut the recount short, which guaranteed Trump's victory over the state. Once it was ended, Trump had won by more than 10,000 votes in the state.
It was discovered just a few days after this that voting scanning machines in 248 of the 662 precincts in Detroit, MI, had catalogued more ballots than actual voters. Due to this discovery, officials planned another inspection in Detroit to find if it was a human error or not.
"There's always going to be small problems to some degree, but we didn't expect the degree of problem we saw in Detroit. This isn't normal," Krista Haroutunian, chairwoman of the Wayne County Board of Canvassers, said.
On Nov. 30, American Delta Party and Reform Party presidential candidate Rocky De La Fuente had requested a recount in the following five counties in Nevada: Douglas, Mineral, Nye, Clark and Carson City. He had also paid the required fee of $14,000 to do so.
If after a sample recount of 5 percent of Nevada's precincts resulted in a divergence of 1 percent or more in favor of either De La Fuente or Clinton, since she had won the state on election day, then they'd do a recount for the whole state. The sample recount was completed on Dec. 9, but the results for each county won't be released until every one of them has finished.
From what votes have been recounted thus far, Trump is in the lead for becoming the next president of the United States, but the final result is not yet known.