The Streak Goes On
Girls soccer makes it to WPIAL Playoffs after Regular Season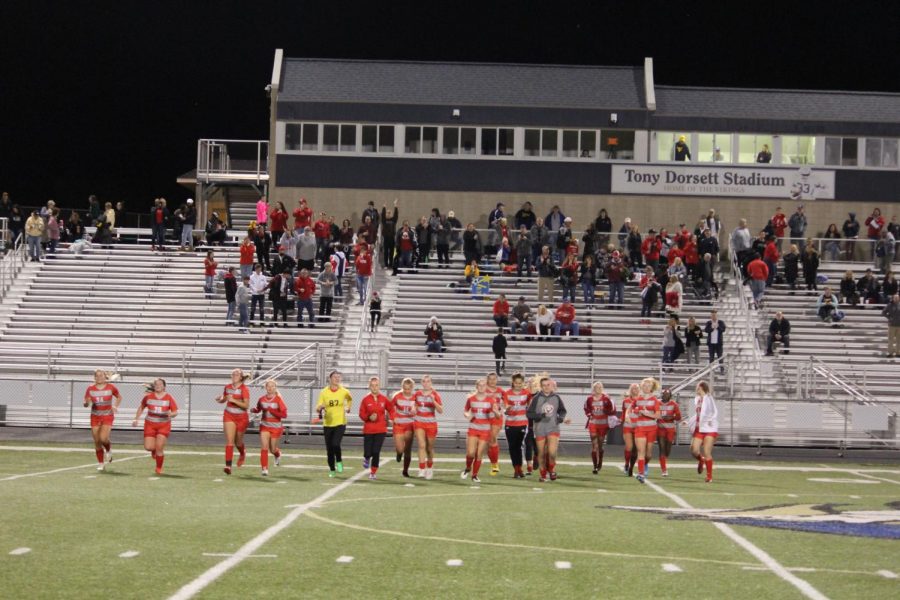 With only six games left in the regular season, the girls were able to remain undefeated as they headed into the playoffs. On Oct. 2, the girls took on Neshannock, winning with a final score of 9-0. On Oct. 3, they played against Sewickley, ending with a winning score of 7-1.
"I have played soccer for over 50 years. I coached in England but for adult teams and started coaching in 1983 at Seneca and West Allegheny. I did a lot of coaching and was part of coaching academy for 14 years. They are a very forward thinking team, and peaked with the game on October 24. I hope that we advance to the WPIAL finals." Coach Collin Williams said.
The girls faced Riverside at Bulldog Stadium on Oct. 7, defeating 3-1. They headed to Mohawk on Oct. 9 and Blackhawk on Oct. 12 for their next two games. The final scores of those games were 4-2 and 3-2, respectfully, both with a Bulldog win.
The final game of the regular season took place on Oct. 14 against Quigley Catholic. With this being the girls last home game, the team recognized the senior players from each soccer team prior to the start of the girls game. The team secured their spot in the WPIAL playoffs with a winning score of 9-1.
"It's been amazing so far we have done so well and I'm so thankful to be a part of the teams we've had these past 4 years. Some of the most memorable parts have been the practices and honestly the team bonding that we do together," senior Myah Hyrinko said.
Coming off of an undefeated regular season, the girls faced The Ellis School in their first WPIAL playoff game on Oct. 21. With a 5-1 win, the girls advanced to the second round of playoffs.
"Going to playoffs for the second year is probably one of the coolest feelings that someone could ever get because being able to do it with different people makes it all that much more memorable," sophomore Renae Mohrbacher said, "I am beyond excited about playoffs and can't wait to see what's to come."
The second game took place on Oct. 24 against Bishop Canavon, with the Bulldogs emerging victorious, with an ending score of 6-0.
"It feels really good that we are undefeated in the regular season because it shows how hard all of the girls on the soccer team work. As much as I am looking forward to playing soccer next year I don't want this year to end because I will miss all the seniors." Said freshman Finley Paxton.
As of time of print, the girls soccer team has yet to take on Greensburg Catholic on Oct. 28 in the semifinals of the WPIAL playoffs.