Three Easy DIY Fall Decorations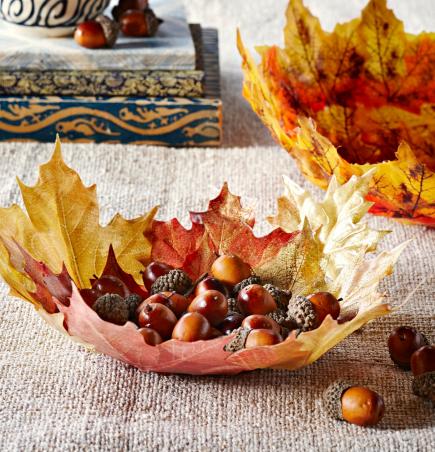 The cool breeze ruffles the branches of every tree nearby. The dull sky is littered with a colleague of bright orange, red and yellow. Children laugh and play, while adults rake leaves. It's that time of year that everyone waits so drastically long for. If it's for turkey, pumpkins or even just leaves in general, the house is no exception when it comes to these fall festivities. Here are some creative and easy ways to decorate and enjoy the fall season.
1) Natural Flower Vases
After the Halloween season, many people have leftover pumpkins or gourds that are just sitting around collecting dust. It's not shocking that many of these fruits are thrown away. These can be used, though, as a way to help decorate and spread the fall cheer. Below is an easy way to use these said materials and create something phenomenal.
Materials Needed:
Colored gourd or pumpkin

Scissors or knife

Fall colored flowers or berries

Drinking glass

Water
When going to cut your gourd or pumpkin, you should first see how thick the walls of the pumpkin and gourd should be so that the flowers fit in the vase naturally. Make sure that you cleanly cut off the top of the gourd and clean the insides out.
After you have carefully finished both cutting and cleaning out your gourd, now it is time to fill a drinking glass and put it inside the gourd so the flowers will last longer. After this is all done it's time to finally add the flowers, berries, grass, etc. Now you have a festive centerpiece that is not only great looking, but also a great way to use up unwanted materials around the house.
2) Leaf Bowls
Everyone loves leaves, whether it's the sound of them crunching under their feet or just the bright array of different colors that can be found. In this craft faux leaves are being used, which means that the great color of the leaves is the same but there is no need to worry about them dying. These are a great way to not only brighten up a space in a room, but also a great activity to spend some time with the kids.
Materials Needed:
Faux leaves

Balloon

Glue (or any

decoupage medium)

Bowl

Paint brush
The first step in this activity is to figure out how large you would want your bowl to be. This is important because this is what will be used to judge how big you want to blow up the balloon.
Once the balloon is blown up and is to the size that fits the bowl you want, put the balloon in a bowl so that it is sturdy for when you go to add the leaves to the balloon. The next step is to add glue to the top of the balloon along to the top of the leaves.
Start to lay the leaves on the balloon face down on the bottom and this will slowly start to form the shape of the bowl.
To finish off the bowl, brush one last layer of glue on top of the leaves to make sure they are all set, and let it dry. Once dry, pop the balloon, and you now have a beautiful leaf bowl!
3) A New Look on Candleholders
Normally, people don't think much about everyday household items or accessories, but there are many ways to spice up your creative zone without putting much effort into it. Below is just one creative way by which you can do this.
Materials Needed:
Pumpkin

Different sized candleholders
To complete this decoration you will need different sized candleholders, which you will place assorted sizes of gourds and/or pumpkins on. This decoration is simplistic,yet shows a good bit of class when you look at it!
(All Ideas taken from "Creative Candleholders", Midwest Living, 2017)