Underclassmen look forward to improving next season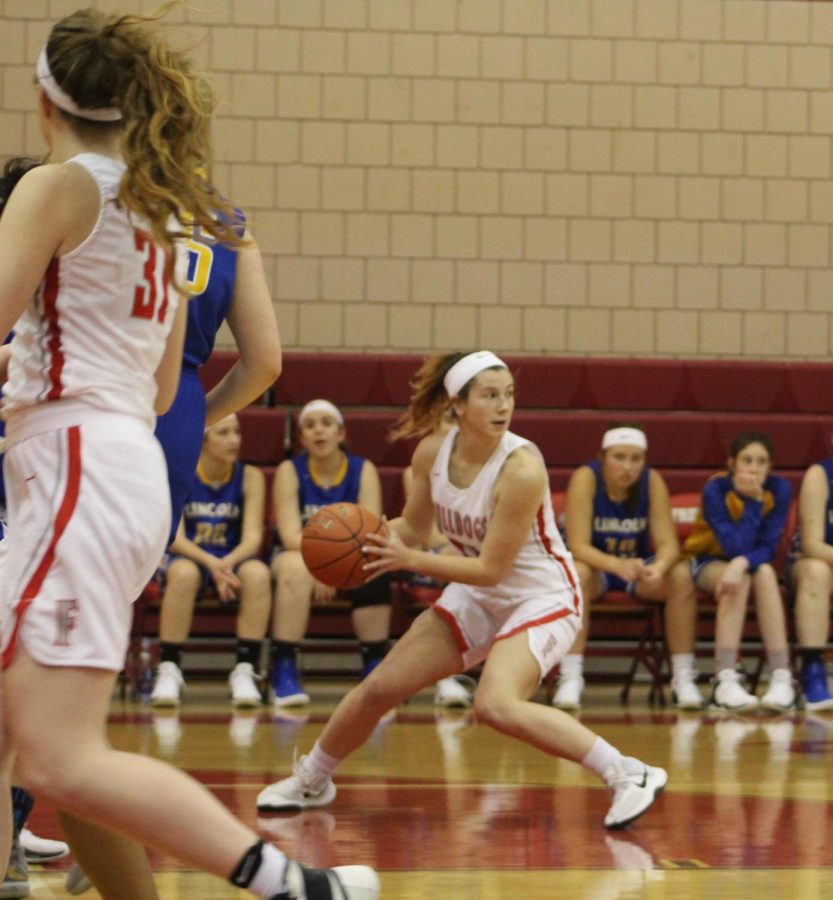 In frigid weather, after a cancelled school day, the Lady Bulldogs arrived on Feb. 1 to defend their court against Riverside. Though they lost the game 58-43, coach John Kaercher gave the younger players a chance on the court during the fourth quarter.
During the game against Avonworth on Feb. 7, the team's morale took a hard hit regarding a technical foul on senior player Alexsia Barlamas.
"To receive a technical foul was not good for our team, so I was frustrated and used that to play hard through the rest of the game," Barlamas said.
The Lady Bulldogs unfortunately still fell to Avonworth by a score of 69-37.
The girls were home again Feb. 11 against Lincoln Park for the final game of the season. After honoring the seniors, the team was on the court fighting for victory. For this game, coach Kaercher let the senior players make up the starting lineup to kick off the first quarter.
The girls tied the score a few times throughout the night, keeping the crowd on the edge of the bleachers. With their opponents towering in height, the girls kept up in a nail-biting game that unfortunately ended with a score of 62-58.
The next season is bound to bring new changes and with senior Taylor Greene graduating there will be a new captain of the team.
"Don't take being captain for granted. You are the leader of the team, and you have to make sure everyone works hard and doesn't give up," Greene said.
She has faith in her team's ability to continue without her.
"I will miss playing with everyone on the team, we are a family and I will miss having fun with them every practice or game," Greene said.
She also wished to have beaten her goal of scoring a thousand points and making it to playoffs.
The other senior players are also going to continue looking back on their years in basketball and miss being a part of the Lady Bulldogs. The younger players are going to be taking center stage now as they have some big shoes to fill.
"To the freshmen and returning players, just remember to laugh, have fun and make the most of it," Barlamas said.
If she had a chance to do things differently Barlamas said she'd work harder to change the outcome of a few of the losses they faced.
The girls won six games in total this season. They had plenty of close calls, but in the end they didn't succeed.
The team still hasn't reached their full potential, and will be back again next year. Look forward to the next season to see how the younger players grow while faring against tough opponents.